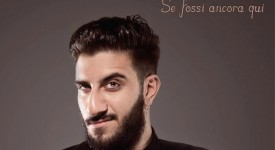 S'intitola Se fossi ancora qui il nuovo singolo di Manuel Foresta, che ricorderete per essere stato uno dei finalisti di The Voice of Italy prima edizione. Raffaella Carrà gli preferì Veronica De Simone, ma Manuel imperterrito è riuscito a far uscire il suo primo singolo che racconta della tormentata fine di una storia d'amore.
Il brano, prodotto artisticamente da Davide Maggioni per l'etichetta Rusty Records è un misto di elettronica e sonorità tanghere. Ecco di seguito il testo di Se fossi ancora qui.
Testo – Se fossi ancora qui
Tu non mi devi credere quando dico "Non ti penso più"
che esco con gli amici tutte le sere
e che mi sto dando da fare
Tu non mi devi credere se al telefono rido come un cretino
ed invento serate belle importanti
e che non mi manchi mai
È da qualche giorno che ho ripreso ad uscire
ma non è come quando c'eri tu
Gli amici mi offrono spesso da bere
ma la sera al ritorno che freddo che c'è.
Se fossi ancora qui ti strazierei
Se fossi ancora qui ritornerei a ridere
Se fossi ancora qui ti sazierei
Se fossi ancora qui io ti lascerei perdere
come non da fare lei
Tu non mi devi credere se parlandoti
ti ho guardata negli occhi come fossi io il più forte
è il gioco perverso di chi dimostra il contrario
Tu non mi devi credere se ti dico che è tutto finito
e con lei rido, sorrido e godo di più
e che lei forse è l'amore
Se fossi ancora qui ti strazierei
Se fossi ancora qui ritornerei a ridere
Se fossi ancora qui ti sazierei
Se fossi ancora qui io ti lascerei perdere
Il tempo mi aiuta e ti penso spesso
ma il ricordo diventa più dolce
ogni giorno che passa è meglio di adesso
e la sera ho ripreso a sognare
Se fossi ancora qui ti strazierei
Se fossi ancora qui io ti farei ridere
Se fossi ancora qui ti sazierei
Se fossi ancora qui io ti lascerei perdere
come non sa fare lei