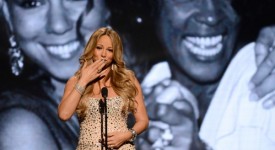 Sono passati già quattro anni da quando Mariah Carey ha pubblicato il suo ultimo album di inediti, "Memoirs of an imperfect angel" del 2099, ma l'attesa per ascoltare cosa di nuovo ha preparato la grande artista sta per finire.
Nei primi mesi del 2014, anche se non si sa ancora con precisione la data di release, uscirà "The art of letting go", il nuovo album di Mariah Carey che la cantante ha voluto anticipare proprio in questi giorni con la pubblicazione del primo singolo estratto: la scelta è ricaduta sulla titletrack, brano molto particolare in cui Mariah Carey può dare dimostrazione delle sue incredibili doti vocali.
Di seguito vi proponiamo l'audio di "The art of letting go" con testo e traduzione.
Testo – The art of letting go
[Verse 1]
I'm making a statement of my own opinion
Just a brief little reminder to help myself remember
I know no longer live in your dominion (no, no, no, ooh)
You're just trifling, nothing more than a liability
Gotta lay all your possessions
Outside the kitchen window right now
[Chorus]
Letting go, letting go ain't easy
Oh, it's just exceedingly hurtful
'Cause somebody you used to know
It's flinging your world around
And they watch, as you're falling down, down
Falling down, baby
[Verse 2]
Evidently your words were merely lies
Reverberating in my ears
And the echo won't subside
There's deep deep loss of hope
And the anger burns in me
I hope you don't get no ideas 'bout re-uniting baby
'Cause that's the last thing I truly need
Your destiny is too much to be believed, so
Go to MiMi on your contacts, press delete
[Chorus]
Letting go ain't easy
Oh, it's just exceedingly hurtful
'Cause somebody you used to know
It's flinging your world around
And they watch, as you're falling down, down
Falling down, baby
[Bridge]
Baybe letting go, baby letting go
Ain't easy, easy
Baby letting go, baby letting go (woah)
Ain't easy, Ain't easy
[Chorus – Outro]
Baby letting go, it ain't easy
'Cause somebody you used to know
It's flinging your world around
And you know what?
They watch as you're falling, as you're falling
Down
Fall
It ain't easy baby
Traduzione 
Sto dichiarando la mia opinione
Basta un piccolo promemoria per aiutarmi a ricordare
So che non vivo più al tuo comando (no, no, no , ooh)
Sei solo insignificante, niente di più di un peso
Devo gettare tutte le tue cose
Fuori dalla finestra della cucina adesso
Lasciar andare, lasciar andare non è facile
Oh, è solo estremamente doloroso
Perché qualcuno che conoscevi
Sta lanciando il tuo mondo
E loro guardano, come stai cadendo giù, giù
Cadendo, baby
Evidentemente le tue parole erano solamente bugie
Riecheggiado nelle orecchie
E l'eco non si abbasserà
C'è una profonda perdita di speranza
E la rabbia brucia dentro
Spero che tu non abbia idea di riavvicinarti baby
Perché è l' ultima cosa di cui ho bisogno
Il tuo destino è troppo per essere creduto, perciò
Vai su MiMi tra i tuoi contatti, premi 'Elimina'
Lasciar andare, lasciar andare non è facile
Oh, è solo estremamente doloroso
Perché qualcuno che conoscevi
Sta lanciando il tuo mondo
E loro guardano, come stai cadendo giù, giù
Cadendo, baby
Baby, Lasciar andare, lasciar andare
non è facile
Baby, Lasciar andare, lasciar andare
non è facile
Lasciar andare, lasciar andare non è facile
Oh, è solo estremamente doloroso
Perché qualcuno che conoscevi
Sta lanciando il tuo mondo
E loro guardano, come stai cadendo giù, giù
Cadendo, baby
Non è facile, baby