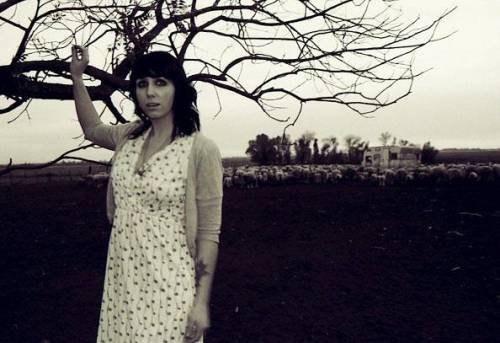 Chelsea Wolfe non è molto conosciuta in Italia ma il suo stile originale sta conquistando gli Stati Uniti, e non senza motivo. La cantante si è fatta portavoce di un genere musicale un po' bizzarro scandito dalle sonorità horror e mortali, singoli che ricordano le elegie funebri e che sono state etichettate come goth-folk. Curiosi? Ecco l'audio di Mer subito dopo il salto!
Mer – Audio
Mer – Testo
Hollow courtship, run-on, pointless
Faint dreams creeping, endless
Timeless, wasted fucking jaded
Destroy-demand, ending, craving, seething, teething, war. War
Hands waving
Hands bleeding
How can you live with yourself?
Cities, countries, children hunting
Worn, wearing down, down
Hear, speak, breathe, eat, crave, pour, drink, need
Wake never fully ever
Shiver, shake
La mer haunted sexuality, curves, angles – charcoal to paper
Memory, history
Capsize-explain, express, stomach, take it out out out out out out out
How can you live with yourself?
Mer – Traduzione
Corteggiamento inutile,
Sogni spaventosi e svaniti, senza fine
Senza tempo, sprecato e stanco
Distrutto, finito, ardente, ribollente, dentato, guerra, guerra
Mani che si muovono
Mani che sanguinano
Come puoi vivere con te stesso?
Città, paesi, bambini ricercati
Sciupati, indossati,
Ascolta, parla, respira, mangia, desidera, versa, bevi, bisogno
Non ti svegli mai davvero
Trema, scuoti
La mer preseguitato dalla sensualità, curve, angoli – carbone e carta
Memoria, storia
Capovolti, esprimi, stomaco, buttalo fuori, fuori, fuori, fuori, fuori, fuori,
Come puoi vivere con te stesso?
[Photo Credits planetlyrics]