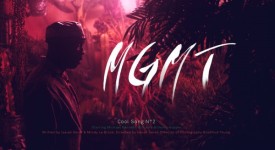 Secondo brano estratto per il terzo album degli MGMT, album che porta il loro nome: la canzone si chiama Cool Song No.2 e arriva a breve distanza dal primo singolo estratto dall'album, Your Life Is A Lie.
Gli MTMG non sono ancora molto conosciuti in Italia, ma la band, viste anche le reazioni più che positive all'uscita del loro terzo album, potrebbe esplodere presto anche da noi.
Testo – MGMT, Cool Song No.2
Whenever I drift by the unknown
Feign like I notice a fundamental tone
The fine pedals open and close offended
More explanation and nothing shown
Kind of like if a friend exits without a sign
Glimmering like a precious stone
Maybe we share the dream for 20 nights in a row
I would feel better knowing that I was alone
Wherever scientists turn lead to birds,
Torment ignites essence, delights from the earth
What you find shocking
They find amusing,
Something else to soften a sadistic urge
When they tell you the extent of the vice
Then the prime time mission is to choke the statistician,
And like the senses that you're lurking behind
While it gnaws right through to your core,
Oh I'd twist it more
If you think that you're free (Free like a kite)
Watching as it flies by (Spy the unknown)
Focus on the quiet oars
Tell me how far you'd go (Go where you like)
Knowing your air won't last (Last one to know)
Would you feel better holding the stars up?
What if the beast escapes (apes have it good)
And separates like a cloud (loud like a fault),
Seeps into the hollow bones?
Wouldn't its eyes expand
And zero in like a scope?
I might feel better
Knowing I wasn't alone
Traduzione
Ogni volta che mi lascio andare nell'ignoto
Fingo come se avessi notato un tono fondamentale
I pedali si aprono e chiudono, offesi
Più spiegazioni e niente da vedere
Più o meno mi piace se un amico esce senza un segnale
Splendente come una pietra preziosa
Forse condividiamo il sogno per 20 notti di fila
Mi sentirei meglio se sapessi che sono solo
Ovunque gli scienziati diano vantaggio agli uccelli
Il tormento accende l'essenza, le delizie dalla terra
Quello che trovi scioccante
Per loro è divertente
Qualcos'altro per alleggerire un'urgenza sadica
Quando ti spiegano nel dettaglio il vizio
Allora la prima missione è soffocare lo statistico
E come i sensi che tieni nascosti
Mentre ti rode fino al midollo
Oh lo fare io
Se pensi di essere libero (libero come un aquilone)
Guarda mentre vola via (spia l'ignoto)
Concentrati sui remi tranquilli
Dimmi quanto lontano andresti (vai dove vuoi)
Sapendo che l'aria non durerà (l'ultimo a saperlo)
Ti sentiresti meglio a tenere su le stelle?
Che ne sarebbe se la bestia scappasse (le scimmie lo hanno)
E si separasse come una nuvola (forte come una colpa)
Filtrasse nelle ossa vuote?
Non si espanderebbero i suoi occhi?
E zero come obiettivo?
Mi potrei sentire meglio
Sapendo di non essere solo