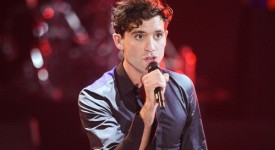 Live your life è un pezzo di Mika realizzato per la campagna pubblicitaria di una birra e quindi rilasciato in esclusiva per la Spagna. Per questa ragione non troviamo il singolo nell'album The origin of love del 2012.
Successivamente Live your life è stato il pezzo utilizzato anche per la campagna della compagnia telefonica Wind del 2013.
Di seguito testo e traduzione di Live your life.
Testo – Live your life
You've got the whole world in your pocket
But you just don't know
Everybody's smilin' at you everywhere you go
It's like you've got that secret
That everybody else wants to know
Anywhere you are is just like home to you
From the beaches in Manila
Down to Katmandu
Yeah you've got that secret
That everybody else wants to know
But you won't ever let it go oh
Everybody wanna hold your hand
Everybody wanna shine that bright
Everybody wanna say they can
Everybody wanna live your life
Everybody wanna talk like you
Only wanna do the things you do
'Cause they always gonna turn out right
Everybody wanna live your life
We take a whole room full of strangers
And we make them friends
We do it all around the world
Just so it never ends
It doesn't matter where we're coming from or going to
You're the only one that ever turns a grey sky blue
And everybody needs a friend like you
Everybody wanna hold your hand
Everybody wanna shine that bright
Everybody wanna say they can
Everybody wanna live your life
Everybody wanna talk like you
Only wanna do the things you do
'Cause they always gonna turn out right
Everybody wanna live your life
We take a whole room full of strangers
And we make them friends
We do it all around the world
Just so it never ends
It doesn't matter where we're coming from or going to
We don't need a reason
To be a friend like you
Everybody wanna hold your hand
Everybody wanna shine that bright
Everybody wanna say they can
Everybody wanna live your life
Everybody wanna talk like you
Only wanna do the things you do
'Cause they always gonna turn out right
Everybody wanna live your life
Everybody wanna hold your hand
Everybody wanna shine that bright
Everybody wanna say they can
Everybody wanna live your life
Everybody wanna talk like you
Only wanna do the things you do
'Cause they always gonna turn out right
Everybody wanna live your life
Everybody wanna hold your hand
Everybody wanna shine that bright
Everybody wanna say they can
Everybody wanna live your life
Everybody wanna talk like you
Only wanna do the things you do
'Cause they always gonna turn out right
Everybody wanna live your life
Traduzione
Hai il mondo intero in tasca
Ma non lo sai
Ovunque tu vada, tutti ti sorridono
È come se avessi un segreto dentro di te
Che tutti vogliono conoscere
Ovunque tu sia, è come se fosse casa tua
Dalle spiagge di Manila fino a Katmandu
Sì, hai dentro di te quel segreto
Che tutti vogliono conoscere
Ma non te lo lascerai mai sfuggire
Tutti vogliono tenerti per mano
Tutti vogliono splendere come te
Tutti vogliono dire di poterlo fare
Tutti vogliono vivere la tua vita
Tutti vogliono parlare come te
Vogliono fare solo le cose che fai tu
Perché vuol dire che verranno sempre bene
Tutti vogliono vivere la tua vita
Prendiamo una stanza intera piena di sconosciuti
facciamoli diventare amici
facciamolo ovunque, in tutto il mondo
Così che non finisca mai
Non importa da dove veniamo o dove stiamo andando
Sei il solo che può far diventare sereno un cielo grigio
e chiunque ha bisogno di un amico come te
Tutti vogliono tenerti per mano
Tutti vogliono splendere come te
Tutti vogliono dire di poterlo fare
Tutti vogliono vivere la tua vita
Tutti vogliono parlare come te
Vogliono fare solo le cose che fai tu
Perché vuol dire che verranno sempre bene
Tutti vogliono vivere la tua vita
Siamo cittadini del mondo, così
io resterò sempre al tuo fianco e tu starai accanto a me
Il mondo è nelle tue mani, ancora non lo sai
Risplenderà sempre come un diamante
Tutti vogliono tenerti per mano
Tutti vogliono splendere come te
Tutti vogliono dire di poterlo fare
Tutti vogliono vivere la tua vita
Tutti vogliono parlare come te
Vogliono fare solo le cose che fai tu
Perché vuol dire che verranno sempre bene
Tutti vogliono vivere la tua vita