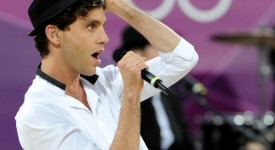 Mika ha perso il suo fascino? Beh, a giudicare dai risultati di vendita del suo ultimo album – il terzo in carriera – uscito lo scorso ottobre si direbbe di sì.
Ma non ne sembra neanche tanto preoccupato o, quantomeno, l'artista sta rivolgendo le sue attenzioni verso una carriera più televisiva e meno musicale (sarà tra i giudici della prossima edizione di X-Factor in Italia), pur continuando a promuovere il suo Origin of love.
Mika ha tirato fuori Popular Song, un altro singolo, e questa volta il successo potrebbe arrivare, non tanto per la musica, ma grazie alla presenza nel pezzo di Ariana Grande, giovane attrice americana.
Testo – Popular Song
You were the popular one, the popular chick
It is what it is, now I'm popular bitch
Standing on the field with your pretty pompons
Now you're working at the movie
Selling popular corn
I could have been a mess
But I never went wrong
Cause I'm putting down my story
In a popular song
Said I'm putting down my story
In a popular song
[Chorus]
My problem, I never was a model,
I never was a scholar,
You were always popular,
You were singing, all the songs I don't know
Now you're in the front row
Cause my song is popular
Popular, I know about popular
It's not about who you are or your fancy car
You're only ever who you were
Popular, I know about popular
And all that you have to do
Is be true to you
That's all you ever need to know
Catch up 'cause you got
An awful long way to go
Always on the lookout for someone to hate,
Picking on me like a dinner plate
I'd hid during classes, and in between them
Dunk me in the toilets,
Now it's you that cleans them
You tried to make me feel bad
With the shit you do
It ain't so funny
When the joke's on you
And everyone's laughing,
Got everyone clapping, asking
How come you look so cool?
Cause that's the only thing
That I've learned at school
[Chorus]
Before the next time that you calling him crazy
Lazy, a faggot, or that fugazi
Here's the one thing that's so amazing
It ain't a bad thing to be a loser,
Baby!
[Chorus]
Traduzione
Tu eri quella popolare, la ragazza popolare
È quello che e, adesso sono popolare, stronza
Stando là sul campo con i tuoi carini pompons
Adesso lavori al cinema
Vendendo popolare corn
Potrei essere stato un disastro
Ma non ho mai sbagliato
Perché sto scrivendo la mia storia
In una canzone popolare
Ho detto che sto scrivendo la mia storia
In una canzone popolare
[Rit]
Il mio problema, non sono mai stato un modello
Non sono mai stato uno studioso
Tu eri sempre popolare
Cantavi tutte le canzoni che non conosco
Adesso sei in prima fila
Perché la mia canzone è popolare
Popolare, io so a proposito di popolare
Non si tratta di chi sei o della tua bella macchina
Sei sempre solo chi tu sei
Popolare, io so a proposito di popolare
E tutto quello che devi fare
È essere sincero con te stesso
È quello che ti serva mai sapere
Mettiti al pari, perché hai
Una strada terribilmente lunga da fare
Sempre alla ricerca di qualcuno da odiare
Scegliendomi come un piatto da portata
Mi nascondevo durante le lezioni, e tra di esse
Immergimi nel water,
Adesso sei tu che li pulisce
Hai provato a farmi stare male
Con le cazzate che fai
Non è cosí divertente
Quando lo scherzo è su di te
E tutti stanno ridendo
Fai battere le mani a tutti, domandando
Come fai a sembrare cosí figo?
Perché è l'ultima cosa
Che abbia mai imparato a scuola
[Rit]
Prima che la prossima volta lo chiami pazzo
Pigro, frocio, o quel fugazi
Ecco qui la cosa cosí straordinaria
Non é una cattiva cosa essere un perdente,
Tesoro!