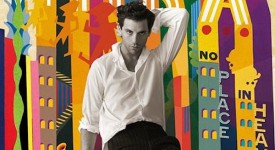 Talk about you è il nuovo singolo di Mika che anticipa il suo nuovo album in studio dal titolo No place in heaven, in uscita il prossimo 15 giugno 2015.
Il suo ultimo lavoro risale al 2012, The Origin of Love.
Di seguito il testo e la traduzione di Talk about you.
Testo – Talk about you
Walk through the city like stupid people do
A million faces, but all I'm seeing is you
I'm stopping strangers and telling them your name
Convincing haters, one day they'll feel the same
We're common people, we're common people in love
It's supernatural, it's just a force from above
Some call me crazy, some try to make me shut up
If I am crazy, that's what you made me!
[Chorus]
I said you're the only one I wanna talk about
I said you're the only one I wanna talk about
I said you're the only one I wanna talk about
Yeah it's true, all I do is wanna talk about you
Walk through the jungle that used to be my town
Everything's different, you've turned it upside down
It happened to me, totally unprepared
Just the beginning, but I'm not even scared
'Cause living like this is risking all that I know
And if it kills me, that's the way I wanna go
So pull me under, and put me under your spell
Rather be crazy, than normal people in hell
[Chorus]
I said you're the only one I wanna talk about
I said you're the only one I wanna talk about
I said you're the only one I wanna talk about
Yeah it's true, all I do is wanna talk about you
I said you're the only one I wanna talk about
I said you're the only one I wanna talk about
I said you're the only one I wanna talk about
Yeah it's true, all I do is wanna talk about you
I wanna talk about you, I wanna talk about you
I said you're the only one I wanna talk about
Oh, all I do is wanna talk about you
Walk through the city, like normal people do,
But all I'm seeing is you
[Chorus]
I said you're the only one I wanna talk about
I said you're the only one I wanna talk about
I said you're the only one I wanna talk about
Yeah it's true, all I do is wanna talk about you
I said you're the only one I wanna talk about
I said you're the only one I wanna talk about
I said you're the only one I wanna talk about
Yeah it's true, all I do is wanna talk about you
I wanna talk about you, I wanna talk about you
I said you're the only one I wanna talk about
Oh, all I do is wanna talk about you
Traduzione
Passeggio per la città come fanno le persone stupide
Un milione di facce, ma tutto quello che sto vedendo sei tu
Sto fermando sconosciuti e dicendo a loro il tuo nome
Convincendo gli scettici che un giorno proveranno le stesse cose
Noi siamo gente comune, noi siamo gente comune innamorata
E 'sovrannaturale, è semplicemente una forza dall'alto
Alcuni mi definiscono pazzo, alcuni cercano di farmi stare zitto
Se io sono pazzo, questo è come mi rendi tu
Ho detto che sei l'unico di cui voglio parlare
Ho detto che sei l'unico di cui voglio parlare
Ho detto che sei l'unico di cui voglio parlare
Sì è vero, tutto quello che faccio è voler parlare di te
Cammino attraverso la giungla che era la mia città
Tutto era diverso, mi hai girato a testa in giù
E' successo a me, ero totalmente impreparato
Solo all'inizio, ma ora non ho più nemmeno paura
Perché vivere così è rischiare tutto quello che sapevo
E se mi uccide, questo è il modo in cui voglio procedere
Perciò tirami sotto, mettimi sotto il tuo incantesimo
Preferisco essere pazzo, piuttosto che una persona normale in un inferno
Ho detto che sei l'unico di cui voglio parlare
Ho detto che sei l'unico di cui voglio parlare
Ho detto che sei l'unico di cui voglio parlare
Sì è vero, tutto quello che faccio è voler parlare di te
Ho detto che sei l'unico di cui voglio parlare
Ho detto che sei l'unico di cui voglio parlare
Ho detto che sei l'unico di cui voglio parlare
Sì è vero, tutto quello che faccio è voler parlare di te
Voglio parlare di te, voglio parlare di te
Ho detto che sei l'unico di cui voglio parlare
Oh, tutto quello che voglio fare è parlare di te
Passeggio per la città come fanno le persone stupide
Un milione di facce, ma tutto quello che sto vedendo sei tu
Ho detto che sei l'unico di cui voglio parlare
Ho detto che sei l'unico di cui voglio parlare
Ho detto che sei l'unico di cui voglio parlare
Sì è vero, tutto quello che faccio è voler parlare di te
Ho detto che sei l'unico di cui voglio parlare
Ho detto che sei l'unico di cui voglio parlare
Ho detto che sei l'unico di cui voglio parlare
Sì è vero, tutto quello che faccio è voler parlare di te
Voglio parlare di te, voglio parlare di te
Ho detto che sei l'unico di cui voglio parlare
Oh, tutto quello che voglio fare è parlare di te