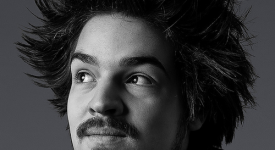 I Milky Chance sono un duo di origine tedesca formato dal cantante Clemens Rehbein e il dj Philipp Daush. Questo pezzo dal titolo Down by the river si trova nel loro album d'esordio dal titolo Sadnecessary uscito nel 2013.
Da questo stesso album è stato estratto il singolo di grande successo Stolen Dance.
Di seguito il testo e la traduzione di Down by the river.
Testo – Down by the river
Down by the river
I was drawn by your grace
Into tempest of oblivion
and to the lovers-place
I was stucked in a puddle
full of tears and unwise
Dark doings now I know
that we've paid unlike
Honey I know hey
when we walked arm in arm
I felt like we can throw away
the falseness of our past
And I know too
it's been the hardest day for you
Let's throw them out the
window
that's what those lovers do
Down by the river
I was drawn by your grace
Into tempest of oblivion
and to the lovers-place
I was stucked in a puddle
full of tears and unwise
Dark doings now I know
that we've paid unlike
Honey I know hey
when we walked arm in arm
I felt like we can throw away
the falseness of our past
And I know too
it's been the hardest day for you
Let's throw them out the
window
that's what those lovers do
Ouhhhhhouhhh… down by river
Down by the river
I was drawn by your grace
Into tempest of oblivion
and to the lovers-place
I was stucked in a puddle
full of tears and unwise
Dark doings now I know
that we've paid unlike
Honey I know hey
when we walked arm in arm
I felt like we can throw away
the falseness of our past
And I know too
it's been the hardest day for you
Let's throw them out the
window
that's what those lovers do
Ouhhhhhouhhh…
Traduzione
Giù lungo il fiume
sono stato attratto dalla tua grazia
nella tempesta dell'oblio
e al posto degli amanti
Ero bloccato in una pozzanghera
pieno di lacrime e imprudente
brutte azioni
che abbiamo pagato in maniera diversa
Tesoro so che
quando abbiamo camminato a braccetto
mi sentivo come potessimo buttar via
la falsità del nostro passato
e so anche
che è stato il giorno più difficile per te
Buttiamoli dalla finestra
questo è ciò che fanno gli amanti
Giù lungo il fiume
sono stato attratto dalla tua grazia
nella tempesta dell'oblio
e al posto degli amanti
Ero bloccato in una pozzanghera
pieno di lacrime e imprudente
brutte azioni
che abbiamo pagato in maniera diversa
Tesoro so che
quando abbiamo camminato a braccetto
mi sentivo come potessimo buttar via
la falsità del nostro passato
e so anche
che è stato il giorno più difficile per te
Buttiamoli dalla finestra
questo è ciò che fanno gli amanti
Ouhhhhhouhhh… giù lungo il fiume
Giù lungo il fiume
sono stato attratto dalla tua grazia
nella tempesta dell'oblio
e al posto degli amanti
Ero bloccato in una pozzanghera
pieno di lacrime e imprudente
brutte azioni
che abbiamo pagato in maniera diversa
Tesoro so che
quando abbiamo camminato a braccetto
mi sentivo come potessimo buttar via
la falsità del nostro passato
e so anche
che è stato il giorno più difficile per te
Buttiamoli dalla finestra
questo è ciò che fanno gli amanti
Ouhhhhhouhhh…