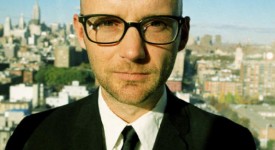 The last day è il nuovo singolo di Moby, noto dj e compositore, che per questo pezzo si è avvalso della collaborazione vocale della cantautrice americana Skyler Grey.
Questo brano è stato tratto da Innocent, ultimo ed undicesimo disco di Moby, uscito nell'ottobre 2013.
Si tratta del quarto singolo dopo A Case for Shame, The Perfect Life e Almost Home. Di seguito il testo e la traduzione di The last day.
Testo – The last day
He was searching
Blindly behind the days
This life and my, no more
Breaking in the, just to stay awake
His heart was like a stone
Uuuh, his heart looked like a stone
And on the last day
He walked out in the sun
He only just discovered the sun
On the last day
And on the last day
When all his work was done
He only just discovered the sun
On the last day
All the structure
Right here all alone
In scraps, the dark away
All this colour
In his final breath
It's at the dark and gray
Uuuh, it's at the dark and gray
And on the last day
He walked out in the sun
He only just discovered the sun
On the last day
And on the last day
When all his work was done
He only just discovered the sun
On the last day
Traduzione
Stava cercando
Ciecamente, dietro i giorni
Questa vita e la mia, non più
Irrompendo, solo per rimanere svegli
Il suo cuore era come una pietra
Uuuh, il suo cuore sembrava una pietra
E l'ultimo giorno
Uscì il sole
Ha appena scoperto il sole
L'ultimo giorno
E l'ultimo giorno
Quando tutto il suo lavoro è stato fatto
Ha semplicemente scoperto il sole
L'ultimo giorno
Tutta la struttura
Proprio qui tutta sola
In scarti, il buio è andato via
Tutto questo colore
Nel suo ultimo respiro
E 'al buio e grigio
Uuuh, è al buio e grigio
E l'ultimo giorno
Uscì il sole
Ha appena scoperto il sole
L'ultimo giorno
E l'ultimo giorno
Quando tutto il suo lavoro è stato fatto
Ha semplicemente scoperto il sole
L'ultimo giorno