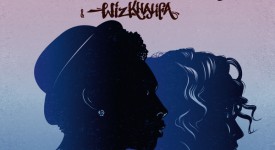 Naughty Boy vuole ancora una volta scalare le classifiche. Dopo il grande successo ottenuto con "La La La", secondo singolo estratto dal suo album di debutto "Hotel Cabana" cantato da insieme a Sam Smith, il rapper e produttore musicale ha mantenuto saldo il suo primato in classifica grazie a "Lifted", per il quale ha scelto la bella voce di Emeli Sandé.
Per il nuovo singolo, "Think About It" Naughty Boy ha scelto ben due collaboratori: Wiz Khalifa alla parte rap e Ella Eyre per il ritornello. Di seguito il video e il testoe.
Testo – Think About It
Yeah
You know it's Naughty Boy and young Wiz Khalifa mane
Hotel Cabana, Taylor Gang.
Got me up all night
Used to start a fight
You don't wanna think about it
You drink about it
You smoke about it
Don't talk about it
Every night, the same
Who's the one to blame?
You don't wanna think about it
You drink about it
You smoke about it
Don't talk about it
Don't make me forget, sir
13's on my Impala, rock chrome filled with chronic smoke
Homie, I got game like the shuttles were fam
Milk these lames for what they worth
Puff [?] ashes on my shirt, three will motion all you motherfuckers
The Porsche in the garage then got a life for my dogs
I had nothing at all but now I take trips to Vegas
Roll up, playing songs on my oldies playlist
Diamonds on my fist, Rollie on my wrist, my life's the shit
Standing over the terrace, made so much last year
These lil' niggas should be embarrassed
Claim we the same, but the difference is apparent
Copy my style so much they got me like 'where the fuck is their parents?'
Smoking so much that they probably think it's scary
But I don't give a fuck, I'm rolling another one up
And giving middle fingers to you little fucks
You get on lying and say I syck, all time you rolling paper and wearing chucks
And I ain't even had my best year, ten cars, 20 millions, fuck I'mma do next year?