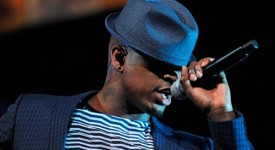 Coming with you è il nuovo singolo di Ne-Yo, estratto dal suo nuovo album dal titolo No Fiction, in uscita il 16 febbraio 2015.
Si tratta del terzo singolo estratto, dopo Money Can't Buy feat. Jeezy e She Knows ft. Juicy J. Qui manca quella componente R&B, per dare spazio a sonorità più pop-dance.
Di seguito il testo e la traduzione di Coming with you.
Testo – Coming with you
I'm coming with you
I'm coming with you
I'm coming with you
Girl, I'm watching you
Loving the way you controlling the scene
Sexy attitude, talk like you walking
Your walk is so mean
They want to hate you
Hate on you good
Cause you so damn bad
I don't condone but I understand it
Cause it just ain't no fair
That you look like that
I'm on it
Got me saying
Where you going? What you getting into?
I'm coming with you
Said if it's all good baby girl I'm coming with you
I'm coming with you
Cause I'm on you tough
And I wanna make that move
I'm coming with you
Said if it's all good baby girl I'm coming with you
I'm coming with you
Baby, pardon me
If I may come across kind of direct
My bad baby
But I been the type to go for what I want
And I ain't never been checked, no
But I might let you try
Girl, what's the business
I'mma let you decide
Where it is we go
Yeah, show me the way you ball so baby
Sexy to me way you take control
Got me saying
Where you going? What you getting into?
I'm coming with you
Said if it's all good baby girl I'm coming with you
I'm coming with you
Cause I'm on you tough
And I wanna make that move
I'm coming with you
Said if it's all good baby girl I'm coming with you
I'm coming with you girl
We can go anywhere
Just pick a star and let me take you there
Baby girl it's you that I want
And all I know is I'm not leaving here alone
Got me saying
Where you going? What you getting into?
Said if it's all good baby girl I'm coming with you
I'm coming with you
Cause I'm on you tough
And I wanna make that move
Said I wanna make that move
I'm coming with you
Said if it's all good baby girl I'm coming with you
I'm coming with you
I'm coming with you, girl
I'm coming with you, baby
I'm coming with you, baby
I'm coming with you, baby
I'm coming with you, girl
Traduzione
Vengo con te
Vengo con te
Vengo con te
Ragazza, ti sto guardando
Amo il modo in cui controlli la scena
Atteggiamento sexy, parli come cammini
Il tua camminata è così significativa
Vogliono odiarti
L'odio su di te buono
Perchè sei così dannatamente cattiva
Non giustifico ma capisco che
Perchè non è semplicemente giusto
Che quella faccia
Sono su di essa
Mi ha fatto dire
Dove stai andando? Quello che ?
Vengo con te
Ho detto, che se va tutto bene baby vengo con te
Vengo con te
Perché sono su di voi duro
E voglio fare quella mossa
Vengo con te
Ho detto, che se va tutto bene baby vengo con te
Vengo con te
Baby, mi perdoni
Se posso venire tipo attraverso di diretta
Mia cattiva bambina
Ma sono stato il tipo da andare per quello che voglio
E io non sono mai stato controllato, no
Ma potrei farti provare
Ragazza, che cosa è il business
Sto per consentirti di decidere
Dov'è che andiamo
Sì, mostrami il modo in cui ci vai dentro baby
Sexy per me è il modo in cui si prende il controllo
Mi ha fatto dire
Dove stai andando? Quello che ?
Vengo con te
Ho detto, che se va tutto bene baby vengo con te
Vengo con te
Perché sono su di voi duro
E voglio fare quella mossa
Vengo con te
Ho detto, che se va tutto bene baby vengo con te
Vengo con te ragazza
Possiamo andare ovunque
Basta scegliere una stella che mi permetta di prendere te
Baby è lei che voglio
E tutto quello che so è che non me ne vado da solo
Mi ha fatto dire
Dove stai andando? Quello che ?
Vengo con te
Ho detto, che se va tutto bene baby vengo con te
Vengo con te
Perché sono su di voi duro
E voglio fare quella mossa
Vengo con te
Ho detto, che se va tutto bene baby vengo con te
Vengo con te
Vengo con te, ragazza
Vengo con te, baby
Vengo con te, baby
Vengo con te, baby
Vengo con te, baby