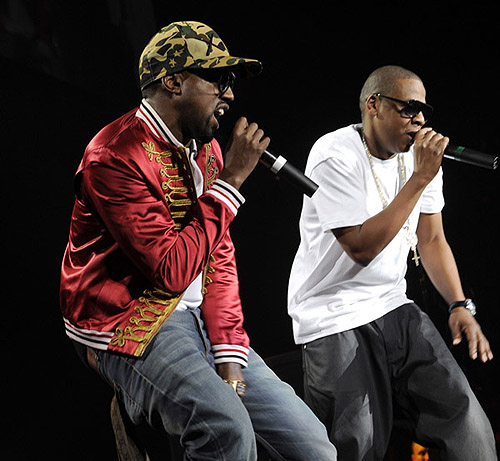 Sarà proprio Niggas In Paris il terzo estratto dal loro album Watch The Throne. Stiamo parlando di Kanye West e Jay-Z, due cantanti hip hop che hanno collaborato insieme in un disco davvero interessante da cui è tratto il pezzo che vi presentiamo e che farà la sua uscita ufficiale il prossimo 13 settembre. Nel frattempo, il disco continua a riscuotere grandi successi con oltre 118.000 copie vendute, un risultato che verrà sicuramente confermato e rafforzato dall'uscita di questo singolo.
Niggas in Paris – Audio
Niggas in Paris – Testo
Jay-Z
So I ball so hard muhf*ckas wanna fine me
But first ni**as gotta find me
What's 50 grand to a muhf*kaa like me
Can you please remind me?
This sh*t crazy
Ya'll don't know that don't sh*t phase me
The Nets could go 0-82 and I look at you like this sh*t gravy Ball so hard,
This sh*t weird
We ain't even spose to be here,
Ball so hard, Since we here
It's only right that we be fair
Psycho, I'm liable to be go Michael
Take your pick, Jackson, Tyson, Jordan, Game 6
Got a broke clock, Rolleys that don't tick tok
Audemars that losing time, Hidden behind all these big rocks I'm shocked
Too, I'm supposed to be locked up too
If you escaped what I've escaped
You'd be in Paris getting f*cked up too
Let's get faded, Le Meurice for like 6 days
Gold bottles, scold models, Spillin' Ace on my sick J's
B**ch behave, Just might let you meet Ye,
Chi towns D. Rose, I'm movin' the Nets to BK
Ritornello
Ball so hard muhf*ckas wanna fine me
That sh*t crazy (x6)
She said Ye can we get married at the mall?
I said look you need to crawl 'fore you ball
Come and meet me in the bathroom stall
And show me why you deserve to have it all
That sh*t crazy, Ain't it Jay?
What she order, fish filet
Your whip so cold, this old thing Act like you'll ever be around muhf***as
Like this again
Bougie girl, grab her hand
F**k ol girl she don't wanna dance
Excuse my French but I'm in France (I'm just sayin)
Prince William's ain't do it right if you ask me
Cause if I was him I would have married Kate &a Ashley
What's Gucci my ni**a?
What's Louie my killa?
What's drugs my deala?
What's that jacket, Margiela?
Doctors say I'm the illest
Cause I'm suffering from realness
Got my niggas in Paris
And they going gorillas, huh!
Jay-Z
Ball so hard muhf*ckas wanna fine me
Ball so hard muhf*ckas wanna fine me
Kanye West
You are now watching the throne
Don't let me get in my zone (x3)
These other niggaas is lyin
Actin' like the summer ain't mine
Jay-Z
I got that hot bitch in my home
Kanye West
You know how many hot b**ches I own
Don't let me in my zone (x 4)
The stars is in the building
They hands is to the ceiling
I know I'm bout to kill it
How you know, I got that feeling
You are now watching the throne
Don't let me into my zone (x 2)
Jay-Z & Kanye West
I'm definitely in my zone
Niggas in Paris – Traduzione
Jay-Z
Ho ballato così tanto che ora quegli s****** mi vogliono trovare
Ma prima mi troveranno i neri
Cosa sono 50 per un tipo come me
Me lo ricordi?
E' pazzesco
Sapete che questa m**** non mi spaventa
The Nets potrebbero fare un 0-82
E' strano
Non dovremmo neanche essere qui
Il gioco è così duro da quando siamo qui
E' giusto, ad essere sinceri
Psico, potrei essere come Michael
Fai la tua scelta, Jackson, Tyson, Jordan, Game 6
Ho un orologio che non va, le lancette ferme
Perdendo tempo, nascondendosi dietro alle pietre
Dovrei essere in gabbia
Se tu fossi fuggito dalle stesse cose che ho evitato io
Dovresti essere anche tu a Parigi a f******
Andiamo a Le Meurice per sei giorni
Bottiglie fredde, modelle, prendiamo Ace per J's
Potrei incontrarti
Sposto i Nets a BK
Ritornello
Kanye West
Lei ha detto: "Ci sposiamo al centro commerciale?"
Ho detto, senti devi inchinarti
Vieni e incontriamoci in bagno
E mostrami perché meriti tutto questo
E' folle, no, Jay?
Cos'ha ordinato, filetto di pesce
Le tue anche sono così fredde
Come questo
Ragazza, prendi la mano
Quella s***** non vuole ballare
Scusa il francesismo ma sono in Francia (tanto per dire)
Il Principe William non ha fatto la casa giusta se lo vuoi sapere
Fossi stato lui avrei sposato Kate e Ashley
Cos'è Gucci?
E' Louie il mio killer?
Che droghe cara?
Cos'è questa giacca, Margiela?
I dottori dicono che sono malato
Soffro per la realtà
Neri a Parigi
E i gorilla, uh!
Jay-Z
Ho ballato così tanto che ora quegli s****** mi vogliono trovare
Kanye West
State guardando il mio trono ora
Non farmi entrare nella mia zona (x 3)
I neri sono lì stesi
Un'estate che non è la mia
Jay-Z
Ho quella bella f*** a casa mia
Kanye West
Sai quante donne posseggo
Non lasciarmi entrare nella mia zona (x 4)
Stelle nel locale
Mani al soffitto
So che sto per ucciderlo
Come lo sai, ho quella sensazione
State guardando il mio trono ora
Non farmi entrare nella mia zona (x 2)
Jay-Z & Kanye West
Sono nella mia zona