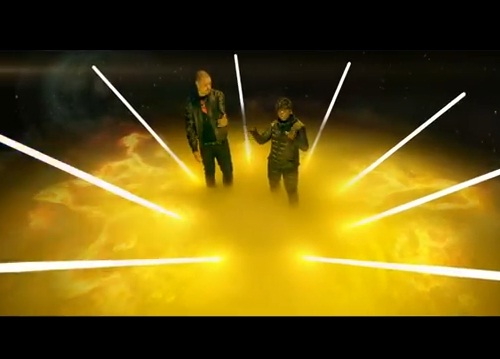 E' uscito l'ultimo singolo del cantante J. Cole che, per il suo nuovo album, si affida all'esperienza della rapper Missy Elliott, con lui nel video e nel singolo di Nobody's perfect. Il singolo, di cui vedrete il video dopo il salto, è inserito nella tracklist del disco Cole World: The Sideline Story.
Nobody's perfect – Video
Nobody's perfect – Testo
This is for all the fans that waited, the bitch niggas that hated
Old hoes we dated, look mama, we made it
Your son out in Barbados, cheese eggs and potatoes
Smokin' weed on the beach as my mind workin' like Plato
Analyzin' the world, fantasizin' about girls
I'm handin' diamonds and pearls and vandalizin' her curls
Sweating her weave out, moans as she breathes out
Fuck I'm doin' in parties with Hova and Steve Stoute
I step over piranha, death over dishonor
They killin niggas for J's, that's death over designer
Hey Cole heatin' up like that left-over lasagna
Remember when I used to be stressed over Dawana
Now a nigga only text and get stressed over Rihannas
I'm talkin' tens and better, hood bitches in Timbs and sweaters
And we always argue about the same thing
Tell me why we gotta argue about the same thing?
Missy Elliott
Nobody's perfect, uh, nobody's perfect, ay… ay
But you're perfect for me
Nobody's perfect, uh, nobody's perfect, ay… ay
But you're perfect for me
We rollin', we ridin'
He like to go inside and
I love to go all night and
We rock the boat, Poseidon
I love to call your name, name, name
Baby I love to call your name, name, name
Oh yeah, to my college girl, take the weekend off and come home soon
I graduated way too long ago to be sneakin' all in your dorm room
But that thing tight like Fort Knox so I call you when the tour stops
But baby where your roommates? Did you make sure the door's locked?
She love it when we get together, smoke a little weed but her shit together
Now that I'm on, I can pick and choose, only fuck with hoes who got shit to lose
Yeah, I heard stories about different dudes, her man on campus but it's fine by me
Say she only fucked like 4-5 niggas, so you know you gotta multiply by 3
Nobody's perfect – Traduzione
Questo è per tutti i fans che hanno aspettato, per gli str**** che mi odiano
Per le vecchie che abbiamo frequentato, ce l'abbiamo fatta
Tuo figlio è alle Barbados, formaggio, uova e patate
Fuma erba su una panchina, mentre la mia mente lavora come Platone
Analizzando il mondo, fantasticando sulle ragazze
Ho in mano diamanti e perle e violento i suoi ricci
Le sue onde, lei mugola mentre sospira
Faccio festa con Hova e Steve Stoute
Camino sui piranha, la morte contro il disonore
Uccdono per J, è la morte contro il designer
Hey Cole si riscalda come una lasagna
Ricordo quando ero stressato come Dawana
Ora tutti mandano sms e si stressano per Rihanna
Discutiamo sempre sulle stesse cose
Dimmi, perché dobbiamo litigare sulle stesse cose?
Missy Elliott
Nessuno è perfetto, uh, nessuno è perfetto, ay… ay
Ma sei perfetto per me
(x 2)
Rotoliamo, guidiamo
A lui piace andare dentro e…
Amo andare ogni sera e
Scuotiamo la barca, Poseidone
Voglio chiamare il tuo nome, nome, nome, nome
Baby amo chiamare il tuo nome, nome, nome
Oh yeah, alla mia collegiale, prendi il week libero e torna subito a casa
Sono diplomato da troppo tempo per poter sgattaiolare via dalla tua stanza
Ma quella cosa stretta come Fort Knox quindi ti chiamerà quando il tour sarà finito
Ma baby dov'è la tua compagna di stanza? Sei sicura di aver chiuso a chiave la porta?
Lei ama quando siamo insieme, fumo un po' di erba
Ora posso scegliere e prendere qualcosa, sc**** con quelle che non hanno qualcosa da perdere
Yeah, ho sentito diverse storie sui ragazzi
Ha detto di aver scop*** con 4 o 5 ragazzi, quindi devi moltiplicarlo per 3