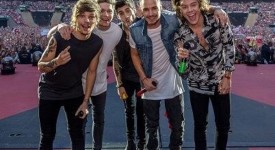 Fireproof è il nuovo inedito dei One Direction, un brano regalato in free download ai fan, ed estratto da quello che sarà il loro nuovo album che s'intitolerà Four.
L'album dovrebbe uscire nel novembre 2014, e sarà il successore del disco di grande successo Midnight Memories.
Questo brano è stato scritto da Liam Payne e Louis Tomlinson con la collaborazione di Jamie Scott, John Ryan e Julian Bunetta, gli stessi autori di The story of my life.
Di seguito il testo e la traduzione di Fireproof.

Testo – Fireproof
[Harry]
I think I'm gonna lose my mind
something deep inside me I can't give up
I think I'm gonna lose my mind
I roll and I roll till I'm out of luck
Yeah I roll and I roll till I'm out of luck
[Niall]
I'm feeling something deep inside
Hotter than a jet stream burning up
I got a feeling deep inside
It's taking, it's takin', all I got
Yeah It's taking, it's takin', all I got
[Chorus]
'Cause nobody knows you baby the way I do
And nobody loves you baby the way I do
[Liam]
It's been so long
It's been so long
Maybe you are fireproof
'Cause nobody saves me baby the way you do
[Louis]
I think I'm gonna win this time
Riding on the wind and I won't give up
I think I'm gonna win this time
I'm roll and I roll till I change my luck
Yeah, I'm roll and I roll till I changed my luck
[Zayn]
'Cause nobody knows you baby the way I do
And nobody loves you baby the way I do
[Liam]
It's been so long
It's been so long
[Zayn]
You must be fireproof
Cause nobody saves me baby the way you do
[Chorus]
'Cause nobody knows you baby the way I do
And nobody loves you baby the way I do
[Zayn]
It's been so long
It's been so long
[Chorus]
Maybe you are fireproof
Cause nobody saves me baby the way you do
Traduzione
Credo che perderò la testa
C'è qualcosa nel profondo di me alla quale non riesco a rinunciare
Credo che perderò la testa
Vado avanti, vado avanti fino a quanto esaurirò la fortuna
sì, vado avanti, vado avanti fino a quanto esaurirò la fortuna
Sento qualcosa nel profondo di me
Più caldo di una strada deserta che va a fuoco
Ho una sensazione nel profondo
che mi prende, che prende tutto quello che ho
sì che mi prende, che prende tutto quello che ho
Perché nessuno ti conosce come ti conosco io
e nessuno ti ama come ti amo io
è passato così tanto tempo, è passato così tanto tempo
forse sei a prova di fuoco
perché nessuno mi salva nel modo in cui mi salvi tu
Credo che vincerò questa volta
cavalcando un vento al quale non vorrò rinunciare
credo che vincerò questa volta
Vado avanti, vado avanti fino a quando cambierà la mia fortuna
sì, vado avanti, vado avanti fino a quanto cambierò la mia fortuna
Perché nessuno ti conosce come ti conosco io
e nessuno ti ama come ti amo io
è passato così tanto tempo, è passato così tanto tempo
deve essere a prova di fuoco
perché nessuno mi salva nel modo in cui mi salvi tu
Perché nessuno ti conosce come ti conosco io
e nessuno ti ama come ti amo io
è passato così tanto tempo, è passato così tanto tempo
forse sei a prova di fuoco
perché nessuno mi salva nel modo in cui mi salvi tu