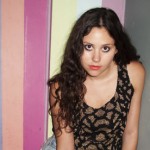 Una delle nuove proposte per il prossimo "autunno musicale" potrebbe essere proprio questa 22enne artista inglese sulla quale la casa discografica EMI Music sembra voler puntare tanto.
Pack up è il singolo d'esordio di Eliza Doolittle, in Inghilterra sta già scalando le classifiche di vendite e si prepara a fare altrettanto anche nel resto d'Europa. Questa canzone  dal ritmo  coinvolgente accompagnato dalla bella presenza e una allegria di fondo dell'artista, anticipa l'uscita del primo album di Eliza Doolittle che avrà come titolo il suo nome e cognome.
Video Pack Up
Testo – Pack Up – Eliza Doolittle
I get tired
And upset
And i'm trying to care a little less
When i google i only get depressed
I wast taught to dodge those issues I was told
Don't worry
There's no doubt
There's always something to cry about
When you're stuck in an angry crowd
They don't think what they say before they open their mouths
Pack up your troubles in you old kit bag
And bury them beneath the sea
I don't care what the people may say
What the people may say about me
Pack up your troubles get your old grin back
Don't worry 'bout the cavalry
I don't care what the whisperers say
Cos' they whisper too loud for me.
Hot topic
Maybe I should drop it
It's a touchy subject
and I like to tiptoe round the tiff goin' down
You got penny, but no pound
your business is running out
'not my business to talk about
They don't think what they say before they open their mouths.
Tweet tweet
tweet tweet tweet tweet tweet
tweet
Yeahh yeah yeah
yeah yeah
yeah
(dibadabadodooo)
Traduzione
Sono stanca
E  sconvolta
E sto cercando di preoccuparmi di meno
Quando googleggio sono ancora più a terra
Mi hanno insegnato ad evitare quei problemi, mi hanno detto
Non preoccuparti
Non c'è dubbio
C'è sempre qualcosa per cui piangere
Quando sei bloccato in una folla inferocita
Non si pensa a quello che si dice prima di aprir bocca
Riponi i tuoi tormenti nel tuo vecchio set di valigie
E bruciali in fondo al mare
Non mi importa quello che può dire la gente
Quello che la gente può dire di me
Metti in valigia i tuoi tormenti, fai tornare il tuo vecchio, enorme sorriso
traduzione pack eliza doolittle
Non preoccuparti della cavalleria
Non mi importa cosa dicono i maldicenti
Perché per me le loro maldicenze sono troppo rumorose
È un tema che scotta
Forse dovrei lasciar perdere
È un argomento pericoloso
E mi piace camminare in punta di piedi intorno a una collera che affonda
Hai fatto trenta, non trentuno
I tuoi affari si stanno esaurendo
Spettegolare non è affar mio
Non si pensa a quello che si dice prima di aprir bocca
Cip cip
Cip cip cip cip cip
Cip
Yeahh yeah yeah
yeah yeah
yeah
(dibadabadodooo)