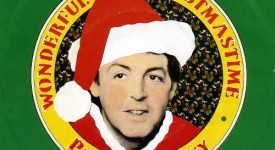 Wonderful Christmas time è un pezzo natalizio dell'ex Beatles Paul McCartney pubblicato come singolo in occasione del Natale 1979.
In seguito, il brano è stato inserito come bonus track della ristampa dell'album Back to the Egg, accreditato al gruppo musicale Wings, del quale il cantautore faceva parte in quel periodo
Nel 2011 è stato inserito nel disco bonus della special edition dell'album McCartney II rimasterizzato.
Di seguito il testo e la traduzione di Wonderful Christmas time.
Testo – Wonderful Christmas time
The moon is right
The spirit's up
We're here tonight
And that's enough
Simply having a wonderful Christmas time
Simply having a wonderful Christmas time
The party's on
The feelin's here
That only comes
This time of year
Simply having a wonderful Christmas time
Simply having a wonderful Christmas time
The choir of children sing their song
Ding dong, ding dong
Ding dong, ding, oh, oh
Simply having a wonderful Christmas time
Simply having a wonderful Christmas time
The word is out
About the town
To lift a glass
Ah, don't look down
Simply having a wonderful Christmas time
Simply having a wonderful Christmas time
The choir of children sing their song
They practiced all year long
Ding dong, ding dong
Ding dong, ding dong
Ding dong, ding dong
The party's on
The spirit's up
We're here tonight
And that's enough
Simply having a wonderful Christmas time
Simply having a wonderful Christmas time
The moon is right
The spirit's up
We're here tonight
And that's enough
Simply having a wonderful Christmas time
Simply having a wonderful Christmas time
Simply having a wonderful Christmas time
Simply having a wonderful Christmas time
Oh, Christmas time
Traduzione
Un meraviglioso periodo di Natale
(Un meraviglioso periodo di Natale)
Un meraviglioso periodo di Natale
(Un meraviglioso periodo di Natale)
L'umore è giusto
Lo spirito è su
Siamo qui stanotte
E quello è sufficiente
Semplicemente avere un tempo di Natale meraviglioso
Semplicemente avere un tempo di Natale meraviglioso
La festa è su
Il sentimento qui
E' tutto perché
E' tempo dell'anno
Semplicemente avere un tempo di Natale meraviglioso
Semplicemente avere un tempo di Natale meraviglioso
Un meraviglioso periodo di Natale
(Un meraviglioso periodo di Natale)
Un meraviglioso periodo di Natale
(Un meraviglioso periodo di Natale)
Il coro dei bimbi canta le loro canzoni
Ding dong
Ding dong
Ding dong
Ding dong
Le aprole sono fuori
Circa la città
Lecca il tuo bicchiere
Non ho dubi
Semplicemente avere un tempo di Natale meraviglioso
Semplicemente avere un tempo di Natale meraviglioso
L'umore è giusto
Lo spirito è su
Siamo qui stanotte
E quello è sufficiente
Semplicemente avere un tempo di Natale meraviglioso