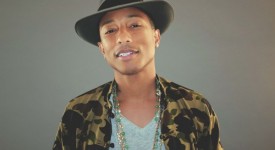 Gust of wind è il nuovo singolo di Pharrell Williams, il quarto estratto da Girl, secondo album studio del cantante, uscito nel marzo 2014.
Questo pezzo arriva dunque dopo la hit Happy, e Marilyn Monroe e Come Get It Bae, quest'ultima in collaborazione con Miley Cyrus.
In Gust of winf c'è di nuovo lo zampino dei Daft Punk, che hanno collaborato con Pharrell a successo planetario di Get Lucky.
Di seguito il testo e la traduzione di Gust of wind.
Testo – Gust of wind
[Verse 1]
My heart is filled, with love and care
Not an ounce of gas, I would get up there
The answer's simple
You lift me up
The view up here, I see all the stars
There go Venus, and there go Mars
Somethin' you been through
You're from above
[Bridge 1]
When I first saw you, I got excited
Tried to keep my composure, tryna hide it
But I didn't know
I didn't let go
Then it occurred to me while tryna fight it
Just like a kite, you lurk to ride it
But I didn't know
You're s'posed to let it go
[Pre-Chorus: Daft Punk]
Like a gust of wind
You hit me off sometimes
Like a gust of wind
You push me back every once in a while
Like a gust of wind
You remind me there's someone up there
Who whooshes in
The air I need to power myself
[Chorus: Pharrell]
When I open the window
I wanna hug you
Cause you remind me of the air
I said yeah
Cause when I'm feelin' real low
I remember I love you
I put my hands in the air
And you were there
[Verse 2]
With your love, I can board the skies
Running away that electrifies [?]
Cannot stow away
Telephone winds of the northern sky
Is the closest thing, and here is why
Cause we're color
You blow me away
[Bridge 2]
I need you, like a breathe
Music umbrellas can make [?]
Who cares if they don't see you?
Don't you know that they're the same?
I need it like a breathe
If you never discover, forever you'll suffer
Who cares if they don't see you?
You got until then to learn the way
[Bridge 1] + [Pre-Chorus] + [Chorus]
Traduzione
Il mio cuore è pieno di amore e attenzione
Non vi è neanche un po' di gas, ma mi alzo velocemente
La risposta è semplice: sei tu che mi porti in alto
La vista da quassù? vedo tutte le stelle
Poi viene Venere, e dopo ancore Marte
E' qualcosa che hai conosciuto
Visto che tu vieni dal cielo
Quando ti ho visto per la prima volta, mi sono eccitato
Ho provato a mantenere il mio contegno, ho provato a nasconderlo
Ma non sapevo come ignorare quell'emozione
Poi è successo mentre provavo a combatterlo
Proprio come un aquilone, stai in agguato per volare
Ma non sapevo che dovevi lasciarti andare
Come una raffica di vento
Mi colpisci a volte
Come una raffica di vento
Ogni tanto mi spingi via
Mi ricordi che c'è qualcuno lassù
che può darmi l'aria di cui ho bisogno per
dar potenza al mio navigare
Quando apro la finestra
Voglio abbracciarti
Perché mi ricordi l'aria
Ho detto di sì
Perché quando mi sento davvero triste
Mi ricordo di amarti
alzo le mani al cielo E tu sei là
Con il tuo amore, posso navigare per i cieli
correndo verso quella direzione
Che elettrizza la navicella madre
posso viaggiare da clandestino?
venti colorati avvolgono il cielo del nord
E' la cosa più vicina, ed ecco perché
Perché siamo colore, tu mi soffi via
Ho bisogno di te come di respirare
musica e colori combaciano perfettamente
Che importa se non ti vedono?
Non sai che loro poi saranno gli stessi?
Ne ho bisogno come di respirare
Se non scopri mai, soffrirai per sempre
Che importa se non ti vedono?
Hai paura fin quando non impari la strada
Come una raffica di vento
Mi colpisci a volte
Come una raffica di vento
Ogni tanto mi spingi via
Mi ricordi che c'è qualcuno lassù
che può darmi l'aria di cui ho bisogno per
dar potenza al mio navigare
Quando apro la finestra
Voglio abbracciarti
Perché mi ricordi l'aria
Ho detto di sì
Perché quando mi sento davvero triste
Mi ricordo di amarti
alzo le mani al cielo E tu sei là