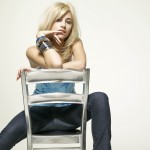 Dall'Inghliterra con furore arriva Pixie Lott con il singolo "Mama Do" estratto dal suo album di debutto Turn It Up.

Ha 17 anni Pixie, ma con questa carica e voce può certamente arrivare lontano, inoltre vanta un curriculum di rispetto avendo avuto anche alcune esperienze come attrice, che la aiuteranno sicuramente davanti al pubblico.

Subito dopo il salto trovate il video di questa nuova canzone.

Buona visione!!
Video
Testo
Mama Do
Mama Do
Everynight I go
Everynight I go
Sneaking out the door
I lie a little more
Baby Im helpless
Theres something bout the night
And the way it hides all the things I like
Little black butterflies
Deep inside me
What would my mama do
If she knew bout me and you?
What would my daddy say
If he saw me hurt this way?
Why should I feel ashamed?
Feeling guilty at the mention of your name
Here we are again
Its nearly perfect
What would my mama do..
All the things a girl should know
Are the things she cant control
All the things a girl should know
Are the things she cant control
What would my mama do
Traduzione
Mama Do
Tutte le notti esco
tutte le notti esco
di nascosto dalla porta
io mento ancora
non ho nessun che mi aiuti
C'è qualcosa circa la notte
ed il modo in nasconde le cose che più mi piacciono
piccole farfalle nere
sono nel profondo di me stessa
Che cosa farebbe mia madre
se sapesse di me e te?
che cosa direbbe mio padre
se mi vedesse ferita in questo modo?
Perchè mi dovrei vergognare?
sentirmi colpevole delle bugie per te
siamo di nuovo qui
quasi perfetti
Che cosa farebbe mia madre…
Tutte le cose che una ragazza dovrebbe sapere
sono quelle cose che lei non può controllare
tutte le cose che una ragazza dovrebbe sapere
sono quelle cose che lei non può controllare
Che cosa farebbe mia madre…
[Fonte: tutto-musica.myblog.it]