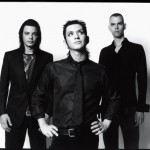 Dopo tre anni dall'ultimo album, "Meds", la band inglese torna a far musica, vi presentiamo infatti oggi "Battle for The Sun" che anticipa l'album omonimo in uscita l'8 giugno.

Dopo l'ingresso nella band del nuovo batterista, Steve Forrest, il gruppo sembra tornato ai vecchi fasti.

A voi il giudizio.
Dopo il salto trovate il video del brano.

Buona visione!!
Video
Testo
Battle For The Sun
I will battle for the sun
And I won't stop until i'm done
You are getting in the way
And I have nothing left to say.
I will brush off all the dirt
And I will pretend it didn't hurt
You are a black and heavy weight
And I will not participate
Dream brother
My Killer, my lover
Dream brother
My killer, my lover
I will battle for the sun
Cause i have starred down the barrel of a gun
You are cheap and nasty fake
And i am the bone you couldn't break.
Dream brother
My killer, my lover
Dream brother
My killer, my lover
I will battle for the sun…
Traduzione
Battle For The Sun
Mi batterò per il Sole
E non mi fermerò finchè non avrò finito
Tu ti stai mettendo in mezzo
E io non ho nient'altro da dire
Spazzerò via tutto lo sporco
E fingerò che non mi abbia fatto male
Tu sei un peso nero e grave
Ed io non parteciperò
Fratello di sogni,
Mio assassino, mio amante
Fratello di sogni,
Mio assassino, mio amante
Mi batterò per il sole
Perchè ho fissato la canna di una pistola
Tu sei uno sporco impostore da quattro soldi
Ed io sono le ossa che non sei riuscito a spezzare
Fratello di sogni,
Mio assassino, mio amante
Fratello di sogni,
Mio assassino, mio amante
Io lotterò per il sole…
[Fonte: www.airdave.it]