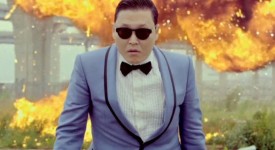 PSY è stato il fenomeno dello scorso anno e, anche se l'eco della sua Gangnam Style ancora riecheggia nelle orecchie di tutti noi, dopo più di otto mesi era arrivato il momento di proporre qualcosa di nuovo.
E il rapper coreano lo sta facendo, ma per sentire il nuovo singolo Happening, si dovrà attendere il 13 aprile, durante il concerto che PSY terrà al Seoul World Cup Stadium.
Nel frattempo vi proponiamo il testo e la traduzione in anteprima.
Testo – Happening
Throw my ticket out the window
Throw my suitcase out there too
Throw my troubles out the door
I don't need them any more
'Cause tonight I'll be staying here with you.
I should have left this town this morning
But it was more than I could do
Oh, your love comes on so strong
And I've waited all day long
For tonight when I'll be staying here with you.
Is it really any wonder
The love that a stranger might receive
You cast your spell and I went under
I find it so difficult to leave.
Traduzione
Ho buttato il mio biglietto fuori dalla finestra
Ho buttato fuori anche la valigia
Ho buttato i miei problemi fuori dalla porta
Non ho più bisogno di loro
Perché stanotte resterò qui con te.
Avrei dovuto lasciare questa città questa mattina
Ma era più di quanto potessi fare
Oh, il tuo amore arriva così forte
Ed io ho aspettato tutto il giorno
Che arrivasse stasera quando sarò qui con te.
C'è davvero da stupirsi
Dell'amore che un estraneo può ricevere
Tu hai lanciato il tuo incantesimo ed io ci sono cascato
E' così difficile andarmene