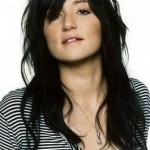 Push that knot away è il nuovo singolo della 35enne cantante Kt Tunstall che anticipa l'uscita del nuovo album, prevista per settembre
Kate Tunstall è una cantante e musicista scozzese che già nel 2005 ha avuto un grande successo con il suo singolo d'esordio Eye the Telescope, singolo che raggiunse la decima posizione nella chart ufficiale italina e divenne una delle sigle del Festivalbar 2005. I successivi lavori però non hanno avuto lo successo successo riportando Kt Tunstall nell'anonimato.
Push that knot away è un singolo con un ritmo molto gradevole che crediamo possa riportare nuovamente la cantante scozzese ad recitare un ruolo importante nel panorama della musica internazionale.
Di seguito un video con l'ascolto del brano, a voi il giudizio.
Video – Push that knot away
Testo – Push that knot away – Kt Tunstall
May you always, may you always walk in hope
And may your days just be a way to walk along the great high road
When the dark comes, when the dark comes to your door
Will you deny him, don't recognize him
He's not welcome anymore
In your life, in your life, in your life
In the forest, in the forest when you hear
Something that scares you,
Be aware that it is frightened of you too
You can push that knot away, you can push that knot away
Yes, you can push that knot away, you can push that knot away
You can push that knot away, you can push that knot away
And in the morning, in the morning when you wake
It is a doorway for you to walk through to become what you make
And just remember you have heaven in your heart
It is inside you, and it will guide you so long as you listen hard
In your life, in your life, in your life
Daisy, you know this. You know this already
Daisy, you know this. You know this already
Daisy, you know this. You know this already
Daisy, you know this. You know this already
Ohh, ahh, you can push that knot away
you can push that knot away
Oh, oh, oh, ohh, you can push that knot away
you can push that knot away, uh ah
You can push that knot away, oh, oh, oh, oh
(Daisy, you know this. You know this already)
You can push that knot away, oh ah
(Daisy, you know this. You know this already)
You won't regret it, I'm betting you'll push that knot away
(Daisy, you know this. You know this already)
You won't regret it, I'm betting you'll push that knot away
(Daisy, you know this. You know this already)
Yes, you can push that knot away, you can push that knot away
Traduzione