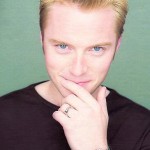 Nuova canzone per il cantante irlandese Ronan Keating, si tratta di "This Is Your Song".

Scritta nel 1998 e dedicata ai suoi genitori subito dopo la morte della madre per un cancro al seno.
Il brano uscirà ufficialmente il prossimo 18 maggio e sarà disponibile esclusivamente online come download.

"This is Your Song" è inclusa nel quinto album di Ronan Songs For My Mother.

Il videoè stato girato a Sidney ad aprile e vediamo Ronano Keating visitare i luoghi della propria infanzia accompagnati dai flashback insieme alla madre.

Subito dopo il salto il video ufficiale.
Buona visione!!
Video
Testo
This Is Your Song
Live your life to the fall
With a lifetime of smiles
Made us know right from wrong
Always knowing a lie
You made us to be tough
But never too rough
Rise above what you said
Never easily lead.
And one day we'll all sing along
'Cause this is your song
I wrote it for you
It won't take all day
Just a minute or two
You were a friend
Walk with you to the end
And one day we'll all sing along
'Cause this is your song
So I'll try and go on
Loving all that we know
Through the hardest of times
you put on a show
You made us stand tall
When all around us would fall
Even when you were alone
You believed you could fly
And one day we'll all sing along
'Cause this is your song
I wrote it for you
It won't take all day
Just a minute or two
You were a friend
Walk with you to the end
And one day we'll all sing along
'Cause this is your song
And one day we'll all sing along
'Cause this is your song
We wrote it for you
It'll take all our lives
Just to help us get through
You were a friend
Walk with you to the end
And one day we'll all sing along
'Cause this is your song
Traduzione
This Is Your Song
Coming soon…