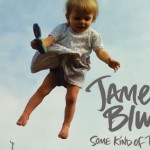 James Blunt è riuscito a diventare uno degli artisti più popolari del genere pop dopo il grandissimo successo ottenuto con il suo precedente album Back To Bedlam, album che ha venduto oltre 11 milioni di copie in tutto il mondo.
Stay the night è invece il nuovo singolo che è in radio dal  9 settembre e che anticipa l'uscita di un nuovo album di inediti Some kind of trouble di cui però non si ha una data precisa per la pubblicazione.
In attesa dunque di scoprire il nuovo lavoro di James Blunt ascoltiamo questo nuovo singolo.
Video –  Stay the night
Testo Stay the night – James Blunt
It's 72 degrees, zero chance of rain
It's been a perfect day
We're all spinning on our heels, so far away from real
In California
We watched the sunset from our car, we all took it in
And by the time that it was dark, you and me had something, yeah!
And if this is what we've got, then what we've got is gold
We're shining bright and I want you, I want you to know
The morning's on it's way, our friends all say goodbye
There's nowhere else to go, I hope that you'll stay the night
We've been singing Billie Jean
Mixin' vodka with caffeine
We've got strangers stopping by
And though you're out of tune
Girl you blow my mind, you do
And I'll say I don't wanna say good night
There's no quiet corner to get to know each other
And there's no hurry I'm a patient man
Is your discover
Cause if this is what we've got, then what we've got is gold
We're shining bright and I want you, I want you to know
The morning's on it's way, our friends all say goodbye
There's nowhere else to go, I hope that you'll stay the night
Just like the song on our radio set
We'll share the shelter of my single bed
But it's a different tune that's stuck in my head
And it goes…
If this is what we've got, then what we've got is gold
We're shining bright and I want you, I want you to know
The morning's on it's way, our friends all say goodbye
There's nowhere else to go, I hope that you'll stay the night