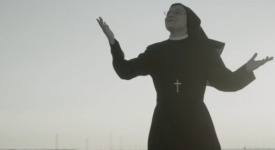 Blessed Be Your Name è il nuovo singolo di Suor Cristina in arte Sister Cristina, estratto dal disco d'esordio della suora intitolato per l'appunto Sister Cristina e uscito l'11 novembre 2014.
L'album propone una serie di cover internazionale, ricordiamo infatti che il primo pezzo estratto è stata la cover di Like a virgin di Madonna.
Blessed Be Your Name è la cover del brano della pop rock band australiana e cristiana Newsboys, incluso nell'undicesimo disco in studio Devotion, rilasciato il 2 novembre 2004.
Di seguito il testo e la traduzione di Blessed Be Your Name.
Testo – Blessed Be Your Name
Blessed Be Your Name
In the land that is plentiful
Where Your streams of abundance flow
Blessed be Your name
Blessed Be Your name
When I'm found in the desert place
Though I walk through the wilderness
Blessed Be Your name
Every blessing You pour out
I'll turn back to praise
When the darkness closes in, Lord
Still I will say
Blessed be the name of the Lord
Blessed be Your name
Blessed be the name of the Lord
Blessed be Your glorious name
Blessed be Your name
When the sun's shining down on me
When the world's 'all as it should be'
Blessed be Your name
Blessed be Your name
On the road marked with suffering
Though there's pain in the offering
Blessed be Your name
Every blessing You pour out
I'll turn back to praise
When the darkness closes in, Lord
Still I will say
Blessed be the name of the Lord
Blessed be Your name
Blessed be the name of the Lord
Blessed be Your glorious name
Blessed be the name of the Lord
Blessed be Your name
Blessed be the name of the Lord
Blessed be Your glorious name
You give and take away
You give and take away
My heart will choose to say
Lord, blessed be Your name
Traduzione
Benedetto sia il nome
Nella terra dell'abbonanza
Dove i tuoi flussi di abbondanza fluiscono
Benedetto sia il Tuo nome
E Benedetto sia il Tuo nome
Quando mi sono trovata in luogo deserto
Nonostante abbia attraversato una landa selvaggia
Benedetto sia il Tuo nome
Ogni benedizione che distribuirai
Tornerà indietro per lodarti
E quando arriverà il buio, Signore
Io dirò ancora
Benedetto sia il Tuo nome Signore
Benedetto sia il Tuo nome
Benedetto sia il Tuo nome Signore
Benedetto sia il Tuo nome glorioso
Benedetto sia il Tuo nome
Quando il sole splende su di me
Quando il mondo è come dovrebbe essere"
Benedetto sia il Tuo nome
E Benedetto sia il Tuo nome
Sulla strada segnata dalla sofferenza
Anche se c'è dolore nell'offerta
Benedetto sia il Tuo nome
Ogni benedizione che distribuirai
Tornerà indietro per lodarti
E quando arriverà il buio, Signore
Io dirò ancora
Benedetto sia il Tuo nome Signore
Benedetto sia il Tuo nome
Benedetto sia il Tuo nome Signore
Benedetto sia il Tuo nome glorioso
Dai e togli
Dai e togli
Il mio cuore sceglierà di dire
Signore, Benedetto sia il Tuo nome
Benedirò il tuo nome