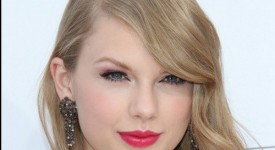 Welcome to New York è il nuovo pezzo di Taylor Swift estratto dal suo ultimo album 1989, in uscita nell'ottobre 2014.
Si tratta di un singolo promozionale che fa seguito a Shake it off e Out of the woods.
Questa canzone porta la firma della stessa Swift che l'ha co-scritta insieme a Ryan Tedder, frontman dei OneRepublic, e prodotta dai 2 insieme a  Noel Zancanella.
Di seguito il testo e la traduzione di Welcome to New York.
Testo – Welcome to New York
Walkin' through a crowd, the village is a glow
Kaleidoscope of loud, happy thunder coats
Everybody here wanted somethin' more
Searchin' for a sound we hadn't heard before
And it said
Welcome to New York
It's been waitin' for you
Welcome to New York, welcome to New York
Welcome to New York
It's been waitin' for you
Welcome to New York, welcome to New York
It's a new soundtrack I could dance to this beat, beat forevermore
The lights are so bright but they never blind me, me
Welcome to New York
It's been waitin' for you
Welcome to New York, welcome to New York
When we first dropped our bags on apartment floors
Took our broken hearts and put them in a drawer
Everybody here was someone else before
And you can want who you want
Boys and boys and girls and girls
Welcome to New York
It's been waitin' for you
Welcome to New York, welcome to New York
Welcome to New York
It's been waitin' for you
Welcome to New York, welcome to New York
It's a new soundtrack I could dance to this beat, beat forevermore
The lights are so bright but they never blind me, me
Welcome to New York (New York!)
It's been waitin' for you
Welcome to New York, welcome to New York
Like any great love, it keeps you guessing
Like any real love, it's ever-changing
Like any true love, it drives you crazy
But you know you wouldn't change anything, anything, anything
Welcome to New York
It's been waitin' for you
Welcome to New York, welcome to New York
Welcome to New York
It's been waitin' for you
Welcome to New York, welcome to New York
It's a new soundtrack I could dance to this beat
The lights are so bright but they never blind me
Welcome to New York
New soundtrack
It's been waitin' for you
Welcome to New York
The lights are so bright but they never blind me
Welcome to New York
So bright, they never blind me
Welcome to New York
Welcome to New York
Traduzione
Camminando tra la folla, il Village è un bagliore
Un caleidoscopio di suoni, di battiti felici sotto i cappotti
Tutti quanti qui volevano qualcosa in più
Cercando un suono che non abbiamo mai sentito prima
E diceva
Benvenuto a New York
Aspettava te
Benvenuto a New York
Benvenuto a New York
Benvenuto a New York
Aspettava te
Benvenuto a New York
Benvenuto a New York
È una nuova colonna sonora
Potrei ballare su questo ritmo per sempre
Le luci sono così splendenti
Ma non mi accecano mai
Benvenuto a New York
Aspettava te
Benvenuto a New York
Benvenuto a New York
Quando abbiamo lasciato i nostri bagagli sul pavimento per la prima volta
Abbiamo preso i nostri cuori spezzati e li abbiamo messi in un cassetto
Tutti quanti qui erano qualcun'altro prima
E puoi volere chi vuoi
Ragazzi e ragazzi e ragazze e ragazze
Benvenuto a New York
Aspettava te
Benvenuto a New York
Benvenuto a New York
Benvenuto a New York
Aspettava te
Benvenuto a New York
Benvenuto a New York
È una nuova colonna sonora
Potrei ballare su questo ritmo per sempre
Le luci sono così splendenti
Ma non mi accecano mai
Benvenuto a New York
Aspettava te
Benvenuto a New York
Benvenuto a New York
Come qualsiasi grande amore
Continua a farti indovinare
Come ogni amore reale
È in continua evoluzione
Come ogni vero amore
Ti fa impazzire
Ma sai che non cambieresti
Niente, niente, niente
Benvenuto a New York
Aspettava te
Benvenuto a New York
Benvenuto a New York
Benvenuto a New York
Aspettava te
Benvenuto a New York
Benvenuto a New York
È una nuova colonna sonora
Potrei ballare su questo ritmo
Le luci sono così splendenti
Ma non mi accecano mai
Benvenuto a New York
Aspettava te
Benvenuto a New York
Benvenuto a New York