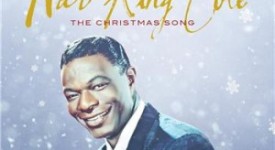 Questa canzone di Nat King Cole è forse uno dei più grandi classici del Natale. Scritta da 
Mel Tormé
 e da 
Bob Wells
 nel
1944
, The Christmas Song, è conosciuta al grande pubblico anche con il titolo di
Chestnuts Roasting on an Open Fire
e
Merry Christmas to You.
Cole ne ha inciso le versioni più famose, tre totali (1946, 19853 e 1961), mala canzone è ripresa tutti gli anni da qualche artista. Negli ultimi tempi hanno riscosso un particolare successo le versioni di Christina Aguilera del 1999, inserita nel suo primo album natalizio
My Kind of Christmas, 
e quella del canadese Justin Bieber del 2011.
Testo  – The Christmas Song
Chestnuts roasting on an open fire
Jack Frost nipping at your nose
Yule-tide carols being sung by a choir
And folks dressed up like Eskimos.Everybody knows a turkey
And some mistletoe
Help to make the season bright
Tiny tots with their eyes all aglow
Will find it hard to sleep tonight.They know that Santa's on his way
He's loaded lots of toys
And goodies on his sleigh
And every mother's child is gonna spy
To see if reindeer
Really know how to fly.
And so I'm offering this simple phrase
To kids from one to ninety-two
Although it's been said
Many times, many ways
Merry Christmas to you.