Si chiude con qualche mese d'anticipo la trilogia di Billy Joe e soci, che dopo la carica di ¡Dos! punta sul contemplativo e sulla ballata facile. Il risultato suona preconfezionato, con pochi pezzi destinati alla memoria collettiva.
Dieci anni fa, i Green Day sembravano un gruppo arrivato. Warning era stato un album fiacco, e nonostante qualche pezzo interessante era chiaro come il sole che la band di Billy Joe Armstrong sarebbe finita esattamente come il resto del punk rock californiano. Un fatto quasi naturale, che non avrebbe stupito nessuno, al massimo dispiaciuto un po'. L'unica soluzione sembrava quella degli Offspring: l'abbandono delle tematiche dure in favore dei beach party.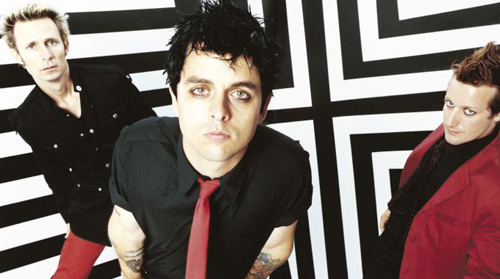 E invece, dopo una pausa di quattro anni, il Giorno Verde torna un po' più annerito del solito, cravatta rossa e matita agli occhi. E tira fuori un concept album (American Idiot) che tuttora divide i fan storici, ma che si dimostra incredibilmente fresco ed eclettico, benché fedele alle classiche sonorità. La band che era diventata famosa con una discografia di soli tre accordi finalmente aveva deciso di crescere. Tutto questo otto anni fa.
Poi ci furono un bel live, un disco fotocopia, un musical e una trilogia piuttosto bollita, di cui ¡Tre! ne è una coerentissima conclusione. Insomma, se escludiamo l'esperimento riuscito dei Foxboro Hot Tubs, le cose sembrerebbero essere tornate esattamente a due lustri prima.
Per carità, certo non si può dire che ¡Tre! (privo della 's' spagnoleggiante per giocare con l'omonimo batterista ritratto in copertina) sia un brutto album. A un orecchio abituato al periodo emo della band, il disco sembrerà il più contemplativo della trilogia, probabilmente preferendo il precedente ¡Dos!. Ma all'ascoltatore d'epoca pre-Dookie un paio di sbadigli potrebbero scappargli.
Per veder decollare ¡Tre! bisogna attendere un pezzo come Sex, Drugs & Violence che tuttavia, come si evince dal titolo, non brilla certo per originalità. Il massimo del coraggio artistico se lo giocano con una ballad d'apertura, Brutal Love, che purtroppo non riesce a trascinare più di tanto. A emergere nella prima metà d'album è X-Kid, interessante per sound e testi, con alcuni richiami allo stile Foxboro. Amanda e Walk Away, seppur carine, non riescono a non sembrare dei doppelganger giunti dal passato. Il recupero arriva con Dirty Rotten Bastards, che sarà anche l'ennesima track divisa in più parti musicali, ma almeno sa coinvolgere con una struttura circolare e una brevità meno snervante delle varie fotocopie di Jesus Of Suburbia. 99 Revolution mantiene alto il morale, e The Forgotten è un'ottima canzone di chiusura, con aggiunte strumentali e schitarrate che rimandano dritte a pezzi del calibro di Tuesday's Gone dei Lynyrd Skynyrd.