Quattro anni di pausa per la pubblicazione del quarto album hanno permesso ai Franz Ferdinand di confezionare un buon disco che ha il difetto di aggiungere poco a quanto la band scozzese ha fatto in precedenza e il pregio di aver saputo ascoltare il pubblico e andare nella sua direzione.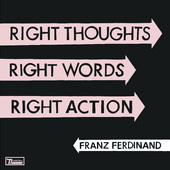 Right Thoughts, Right Words, Right Action
Franz Ferdinand
Genere: Alternative
Anno: 2013
E così, dopo quattro anni dalla pubblicazione di Tonight: Franz Ferdinand, i quattro di Glasgow tornano sul mercato discografico con un disco, Right Thoughts, Right Words, Right Action, che fin dall'inizio fa tornare alla memoria il loro album di debutto: solo 35 minuti di durata, ancora meno del già breve Franz Ferdinand, che li condusse alla ribalta internazionale.
E anche le prime tracce di Right Thoughts, Right Words, Right Action vanno in quella direzione e rimarcano il marchio di fabbrica dei Franz Ferdinand che è il loro modo di fare musica, quell'essere scanzonati e leggeri solo in apparenza che tanto piace a chi li ascolta. Solo in apparenza, perché dietro alle 'canzonette' dei Franz Ferdinand c'è una ricerca musicale di tutto rispetto che dà i suoi frutti nell'originale modo di mescolare i tanti generi – disco, garage, post-punk, synthpop – dai quali Alex Kapranos e soci attingono per le loro canzoni.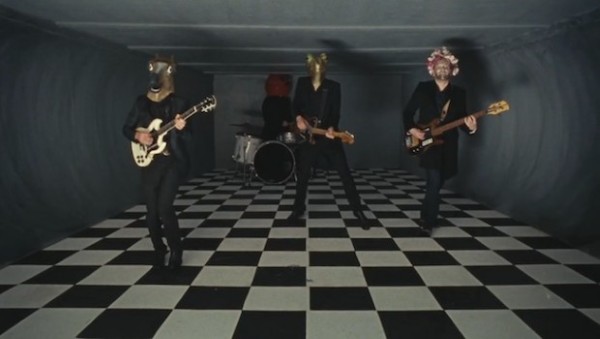 Le prime tracce, tra le quali troviamo Right Action, Evil Eye e Love Illumination, quindi, hanno la funzione di ribadire chi sono i Franz Ferdinand e come hanno improntato il loro stile musicale. Brani validi, tutti e tre, ma qualitativamente surclassati dalla trippletta centrale, che sorprende piacevolmente chi ascolta: Stand on the Horizon, Fresh Strawberries  e Bullet si discostano un po', ma senza esagerare, dallo stile dei Franz Ferdinand e lasciano intendere che si può essere innovativi anche senza stravolgere se stessi e sconvolgere i fan.
Con le ultime tracce del disco (Treason! Animals, The Universe Expanded, Brief Encounters e Goodbye Lovers & Friends) si chiude il cerchio e si torna a bomba, ai Franz Ferdinand originali, divertenti e scanzonati.
In effetti i fan, vista l'imperante tendenza allo strafare degli artisti contemporanei, hanno bisogno di un punto fermo, di un centro di gravità permanente, per dirla alla Battiato, e i Franz Ferdinand danno proprio questo a chi li segue. Anche con Right Thoughts, Right Words, Right Action, nonostante tutto un disco di buona fattura, divertente e piacevole da ascoltare.