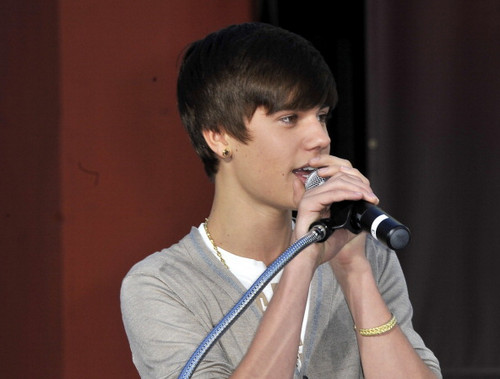 A pochi giorni dall'uscita del suo nuovo singolo, Boyfriend, Justin Bieber ne rivela una parte del testo. Il secondo verso della canzone contiene un riferimento al personaggio del film della Disney, Toy Story.Scritto a quattro mani da Bieber e Mike Posner, Boyfriend, dovrebbe essere lanciato il 26 marzo. E viene descritto come un mix tra SexyBack di Justin Timberlake e Girlfriend dei NSYNC. Bieber parlando della canzone ha detto:
Fondamentalmente sto parlando di questa ragazza dicendo che se fossi il suo ragazzo non potrei mai lasciarla andare via.
Posner fa i complimenti al giovane cantante:
E' un super talento. In un primo momento non sapevo cosa aspettarmi perché è molto giovane, ma lui può scrivere.
Il singolo anticipa l'album, Believe, la cui uscita è prevista entro la fine dell'anno. Ecco un piccolo anticipo del testo di Boyfriend.
If  I was your boyfriend, I'd never let you go
I can take you places you ain't never been before
Baby take a chance or you'll never ever know
I got money in my hands that I'd really like to blow
Swag swag swag, on you
Chillin' by the fire while we eatin' fondue
I dunno about me but I know about you
So say hello to falsetto in three two
I'd like to be everything you want
Hey girl, let me talk to you
If I was your boyfriend, never let you go
Keep you on my arm girl, you'd never be alone
I can be a gentleman, anything you want
If I was your boyfriend, I'd never let you go, I'd never let you go.
Tell me what you like yeah tell me what you don't
I could be your Buzz Lightyear fly across the globe
I don't never wanna fight yeah, you already know
I am 'ma a make you shine bright like you're laying in the snow
Burr
Girlfriend, girlfriend, you could be my girlfriend
You could be my girlfriend until the — world ends
Make you dance do a spin and a twirl and
Voice goin crazy on this hook like a whirl wind
Swaggie
I'd like to be everything you want
Hey girl, let me talk to you
If I was your boyfriend, never let you go
Keep you on my arm girl you'd never be alone
I can be a gentleman, anything you want
If I was your boyfriend, I'd never let you go, I'd never let you go
So give me a chance, 'cause you're all I need girl
Spend a week with your boy I'll be calling you my girlfriend
If I was your man, I'd never leave you girl
I just want to love you, and treat you right
If I was your boyfriend, never let you go
Keep you on my arm girl you'd never be alone
I can be a gentleman, anything you want
If I was your boyfriend, I'd never let you go, never let you go
Na na na, na na na, na na na
Ya girl
Na na na, na na na, na na na ey
Na na na, na na na, na na na ey
Na na na, na na na, na na na ey
If I was your boyfriend
Photo Credits | Getty Images