Andrà in onda oggi, 18 agosto, il Trio Medusa Late Show @Giffoni, su Italia1, in seconda serata, a partire dalle 23:15.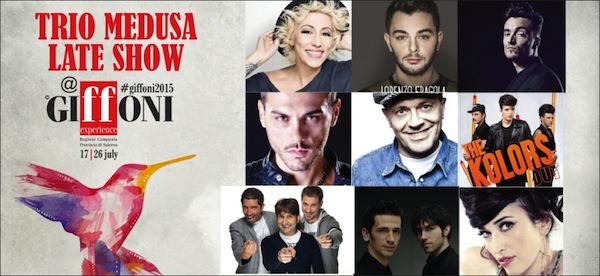 Grandi nomi del cinema e della musica arricchiranno il parterre degli ospiti del Trio Medusa Late Show @ Giffoni: da uno dei cantautori più originali della musica italiana Max Pezzali al rapper dominatore delle classifiche Gué Pequeno, dal trio inedito di attori Nicolas Vaporidis, Primo Reggiani, Matteo Branciamore ai comici rivelazione 2.0 The Pills e all'originale duo Fabio De Luigi e Angelo Duro; dalla band fenomeno del momento The Kolors agli interpreti di primissimo piano della nuova commedia italiana Edoardo Leo, Fabio Troiano e Anna Foglietta fino a Nina Zilli e Zero Assoluto oltre al rapper Raige e, tra i più ascoltati in radio in questi giorni, Malika Ayane e Lorenzo Fragola, protagonisti all'ultimo festival di Sanremo.
In questa prima puntata troveremo, tra gli ospiti, Malika Ayene, domani sarà la volta di Lorenzo Fragola, giovedì 20 agosto, ci sarà Gué Pequeno, martedi 25 agosto avremo Max Pezzali, Lodovica Comello e Zero Assoluto, mercoledì 26 Nina Zilli, e giovedì 27 The Kolors.
L'appuntamento è dunque per stasera su Italia1 in seconda serata.