Dalla star di The Greatest la tracklist della riedizione dell'ultimo album.
Dal 21 ottobre è disponibile disponibile nei negozi di dischi, negli online store e in digitale un'edizione speciale dell'album "This Is Acting" (uscito nel gennaio 2016) dell'artista Sia.
Today's the day! The deluxe edition of #ThisIsActing ft. "The Greatest" is out ? https://t.co/YLC7dA2b9E – Team Sia pic.twitter.com/Ea0k3gvMmo

— sia (@Sia) 21 ottobre 2016
Si tratta del disco "This Is Acting (Deluxe Edition)", pubblicazione realizzata in occasione del Nostalgic For The Present Tour negli Stati Uniti e di cui vi proponiamo la tracklist di seguito: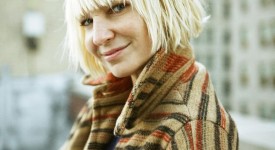 THIS IS ACTING DELUXE EDITION TRACKLIST
01 Bird Set Free
02 Alive
03 One Million Bullets
04 Move Your Body
05 Unstoppable
06 Cheap Thrills
07 Reaper
08 House On Fire
09 Footprints
10 Sweet Design
11 Broken Glass
12 Space Between  
DELUXE EDITION TRACKS
13 Cheap Thrills (feat. Sean Paul)
14 The Greatest (feat. Kendrick Lamar)
15 Confetti
16 Move Your Body (Alan Walker Remix)
17 Midnight Decisions
18 Jesus Wept
19 The Greatest
Ricordiamo che l'attuale singolo "The Greatest" sta avendo un enorme successo, come si legge sul sito della Sony, ha già raggiunto il numero 1 su iTunes in 50 mercati, la Top 10 in altri 26 e attualmente si trova nella Top 10 delle classifiche Global e Italia di Spotify. A precedere "The Greatest", la hit "Cheap Thrills", sei volte disco di platino in Italia.