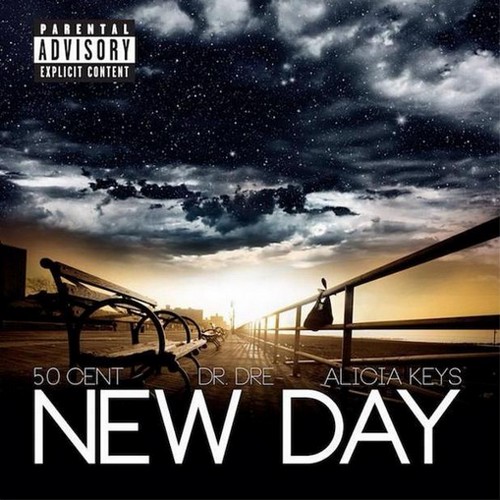 Il rapper 50 Cent ha confermato in una recente intervista rilasciata a Digital Spy di aver registrato una canzone dal titolo New Day che vede la collaborazione di Dr. Dre e Alicia Keys. La canzone sarà presente sul suo prossimo album di studio.
50 Cent pubblicherà 2 album: 5 (Murder by numbers), in free download questa settimana, e Street King Immortal, il suo ultimo album con la Interscope, entro la fine dell'anno. Il rapper, riguardo i due album, ha dichiarato:
Sì, c'è una differenza di stili tra i due album. Negli ultimi mesi ho pubblicato materiale per tre album che valeva la pena pubblicare. The Big 10 è nato per celebrare i 10 anni dal mio primo mixtape. Poi ho pubblicato The lost tape e infine 5 (Murder by numbers). Poi niente musica fino a novembre, quando pubblicherò Street King Immortal, l'effettivo album di studio che verrà promosso e commercializzato dalla Interscope.
Il rapper ha annunciato anche il primo singolo, New Day, con la partecipazione di Dr. Dre e Alicia Keys:
Sono entusiasta di questo progetto. C'è voluto molto più tempo di quanto pensassi, dal punto di vista creativo. E' stato un mal di testa, ma ha funzionato.