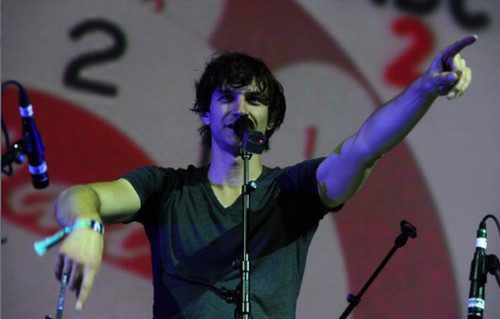 Sono state rese note le nomination agli Aria Awards 2012, ventiseiesima manifestazione della Australian Recording Industry Association. Gli ARIAs si terranno il prossimo 29 novembre presso il Centro divertimenti Darling Harbour di Sidney.
Gotye, dopo le sette nomination ottenute lo scorso anno è ora lizza in cinque categorie tra cui Best Pop Release, dove si scontrerà con Kimbra, con cui ha duettato in Somebody That I Used To Know.
A seguire troviamo I Jezabels, anche loro con cinque nomination, Hilltop Hoods e Lanie Lane con quattro, mentre Missy Higgins, Guy Sebastian, The Temper Trap, Jessica Mauboy e Cold Chisel sono alcuni degli artisti che hanno raccolto tre nomination. One Direction, Adele, David Guetta e Ed Sheeran si contenderanno il premio Miglior Artista Internazionale.
Ecco la lista completa della nomination:
Album of the Year
360 – Falling & Flying
Gotye – Making Mirrors
Missy Higgins – The Ol' Razzle Dazze
The Jezabels – Prisoner
The Temper Trap – The Temper Trap
ARIA Song of the Year
360 feat. Gossling – 'Boys Like You'
Delta Goodrem – 'Sitting On Top Of the World'
Guy Sebastian – 'Don't Worry Be Happy'
Hilltop Hoods Featuring Sia – 'I Love It'
Jessica Mauboy & Stan Walker – 'Galaxy'
Justice Crew – 'Boom Boom'
Matt Corby – 'Brother'
Reece Mastin – 'Good Night'
Ricki-Lee – 'Do It Like That'
Timomatic – 'Set It Off'
Best Male Artist
360
Angus Stone
Gotye
Guy Sebastian
Keith Urban
Matt Corby
Best Female Artist
Jessica Mauboy
Kimbra
Lanie Lane
Missy Higgins
Washington
Best Group
Boy & Bear
Cold Chisel
Hilltop Hoods
The Jezabels
The Temper Trap
Best International Artist
Adele
Bruno Mars
Coldplay
David Guetta
Ed Sheeran
Florence + the Machine
LMFAO
Michael Bublé
One Direction
The Black Keys
Best Australian Live Act
360
Cold Chisel
Dirty Three
Gotye
Hilltop Hoods
Hoodoo Gurus
Kate Miller-Heidke
The Bamboos
The Jezabels
The Living End
Best Video
360 – 'Boys Like You'
Alpine – 'Hands'
Hilltop Hoods – 'I Love It'
The Grindhouse – 'Jackson Firebird, Cock Rockin'
Hermitude – 'Speak of the Devil'
Kate Miller-Heidke – 'I'll Change Your Mind'
Lanie Lane – 'Oh Well, That's What You Get Falling In Love With a Cowboy'
Missy Higgins – 'Everyone's Waiting'
Bluejuice – 'Act Yr Age'
The Rubens – 'My Gun'
Breakthrough Artist Release
360 – Falling & Flying
Alpine – A Is For Alpine
Lanie Lane – To the Horses
Matt Corby – Brother
San Cisco – Awkward
Best Independent Release
Dappled Cities – Lake Air
Katie Noonan and Karin Schaupp – Songs of the Southern Skies
San Cisco – Awkward
The Bamboos – Medicine Man
The Jezabels – Prisoner
Best Adult Contemporary Album
Darren Hayes – Secret Codes and Battleships
Husky – Forever So
Josh Pyke – Only Sparrows
Katie Noonan and Karin Schaupp – Songs of the Southern Skies
Missy Higgins – The Ol' Razzle Dazzle
Best Blues & Roots Album
Angus Stone – Broken Brights
Jeff Lang – Carried In Mind
Lanie Lane – To the Horses
Mia Dyson – The Moment
Paul Green & The Other Colours – Behind the Stars
Best Hard Rock/Heavy Metal Album
Buried In Verona – Notorious
DZ Deathrays – Bloodstreams
Frenzal Rhomb – Smoko at the Pet Food Factory
House Vs Hurricane – Crooked Teeth
Sleepmakeswaves – …and so we destroyed everything
Best Pop Release
Gotye – Making Mirrors
Guy Sebastian – Battle Scars
Jessica Mauboy – Gotcha
Kimbra – Vows
San Cisco – Awkward
Best Rock Album
Children Collide – Monument
Cold Chisel – No Plans
Oh Mercy – Deep Heat
The Jezabels – Prisoner
The Temper Trap – The Temper Trap
Best Urban Album
360 – Falling & Flying
Hilltop Hoods – Drinking From the Sun
Katalyst – Deep Impressions
The Bamboos – Medicine Man
The Herd – Future Shade
Best Children's Album
Bananas In Pyjamas – Playtime
dirtgirlworld – dirtgirl rocks the planet
Hi-5 – Sing It Loud
Rhys Muldoon – I'm Not Singing
The Wiggles – Surfer Jeff