Di seguito la traduzione di Fall, ultimo brano di Eminem.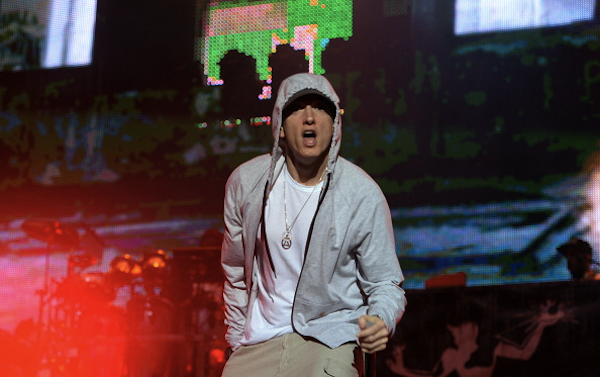 Eminem – Fall, Traduzione
Sai, tutti mi hanno detto cosa pensano di me negli ultimi mesi
È troppo forte
Forse è ora che gli dica cosa penso di loro
Non riesco a sentirlo scendere le scale del corridoio dal parcheggio
È troppo forte
Non c'è una folla tutta dentro, fuoco lento
Non gettarti sulla mia faccia
Non gettarti sulla mia fede, oh
Non gettarti sul mio destino
Non gettarti sulla mia fede, oh
Non gettarti sul mio destino
Non gettarti sul mio-
Devo concentrarmi, contro il tempo corro
Non ho tempo da perdere, sono già in ritardo, ho un passo da maratoneta
Sono passato dall'essere un drogato a un maniaco del lavoro, la parola a Dr. Dre
In quel primo nastro di marijuana, credo di aver avuto un caso cronico (sì)
E non sto solo soffiando fumo, tranne in faccia a tua mamma
Questa volta conosco Paul e Dre
Non mi diranno cosa non dire (no)
E anche se io e i miei giorni di festa
Hanno tutti modi abbastanza separati
Giureresti a Dio che ho dimenticato di essere il ragazzo che ha fatto "Not Afraid"
Un'ultima volta per Charlamagne
Se la mia risposta è in ritardo, è solo quanto ci vuole
Per colpire il mio fottuto radar, sono così lontano
Questi rapper sono come Hunger Games
Un minuto, stanno deridendo Jay
Il minuto successivo, prendono il loro stile da Migos o copiano Drake
Forse non so quando girarmi e andarmene
Ma tutto l'odio, lo definisco il cancello "Walk on Water"
Ho avuto tutto quello che posso tollerare
Sono stufo e stanco di aspettare, ho perso la pazienza
Posso prendere tutti voi figli di puttana in una volta
Volevi Shady? Ce l'hai!
Non gettarti sulla mia faccia
Non gettarti sulla mia fede, oh
Non gettarti sulla mia faccia
Non gettarti sulla mia fede, oh
Non gettarti sul mio destino, oh
Qualcuno dica a Budden prima che lo spezzi, è meglio che attacchi
O avrà chiusa la sua sacca del corpo
La cosa più vicina che ha dovuto colpire sono le p*ttane schifose
E non fare in modo che io lo debba dover restituire ad Akademiks
Dì che questa merda è di nuovo spazzatura, ti farò girare
Come hai fatto quando pensavi di farmi scivolare alla televisione
Anche quando avrò il cervello, non mi prenderai mai con un thot
Parodiando, "non sta facendo come questo nella sua ultima merd*"
Ho, è meglio tornare indietro e ascoltare
Mi conosci meglio, penso che rallenterò o lascerò andare
Chiamalo trappola perché è una configurazione totale
Sperando che voi rapper vi innamoriate di quello
Dre disse: "Tieni la testa alta!" – Kathy Griffin
Ammassate le munizioni, schiaffeggiate il fermaglio e rimettetelo in gara
È così che ho sparato in avanti (pew) -Gabby Giffords
Il mio attacco è vizioso, Jack lo Squartatore, di nuovo in affari
Tyler non crea niente, vedo perché ti definisci un ******, puttana
Non è solo perché sei in cerca di attenzione
È perché lecchi le palle di D12, siete sacri-religiosi
Se mi stai criticando, è meglio che tu stia bene o meglio
Ho il maglione di Earl the Hood
Qualunque sia il suo nome è quello di aiutarti a mettere insieme
Alcune parole, più di due sole lettere
I fan hanno atteso questo momento come quella volta quando ho rubato lo spettacolo (ha), scusa se l'ho preso per sempre (haha)
Non gettarti sulla mia faccia
Non gettarti sulla mia fede, oh
Non gettarti sulla mia faccia
Non gettarti sulla mia fede, oh
Non gettarti sul mio destino, oh
Ricorda, ero qui prima di te
E io sarò qui dopo aver fatto la corsa per te
Detrattori, potrei dover scopare Pitchfork con un cavatappi
Proprio quello che ha ordinato il dottore
La vendetta è la migliore medicina
Aumenta la dose, dalla minore alla maggior parte
E poi dì ai Grammy di andare a farsene in cul0
Succhiano il sangue di tutti i più grandi artisti come sanguisughe
Quindi li nominano, li portano lì, prendono un nome per MC lo spettacolo
Ogni parassita ha bisogno di un ospite (haha)
Quindi consegna l'Album of the Year a qualcuno di cui nessuno ha mai sentito parlare
Tutto quello che so è che ho scritto ogni singola parola
Tutto quello che ho mai ucciso
È il momento di separare le pecore dalle capre
E non ho fiducia nei tuoi scrittori, non credo nei fantasmi
Quando il rap ne aveva più bisogno, io ero quell'ala e una preghiera
Un faro di speranza, metti un B-I-R-D in aria
Da qualche parte un bambino lo sta sbattendo mentre lui si sincronizza con le labbra allo specchio
Ecco a chi sto facendo, per il resto a me non interessa davvero
Ma tu penseresti che sto portando un dizionario di Oxford nella mia tasca
Come sto seppellendo questi artisti
Su una scala di "valori" sei "meno"
Il mio dice 'molto', il tuo dice 'a malapena'
E ciò che ti spaventa, probabilmente?
Puoi paragonarmi alla tua auto perché sto appena iniziandomi a muovere
E per quanto riguarda Lord Jamar, farai meglio a lasciarmi da solo
O ti mostrerò un clone di Elvis
Cammina su in questa casa che possiedi, spingi il mio osso pelvico
Dovresti telefonare e andare a prendermi il telecomando
Mettere a posto i miei piedi e farmi sentire comodo a casa
Appartengo a questo posto, pagliaccio, non parlarmi della cultura
Ho ispirato gli Hopsin, le Logiche, i Coles, i
Sean, i K-Dots, i 5'9 "s e oh
Ho portato al mondo 50Cent, ti sei accovacciato, pisciato e gemito
Ma non cadrò … cagna!
È troppo forte
Non riesco a sentirlo scendere le scale del corridoio dal parcheggio
È troppo forte
Gruppi di tre, non è una folla
Fuoco lento