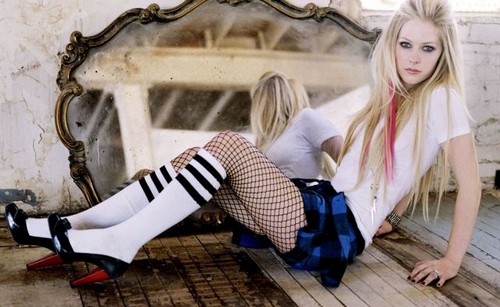 Il Corriere della Sera oggi ha dedicato una pagina al ritorno in tour in Italia di Avril Lavigne. La 26enne canadese porterà sul palco di Torino, Roma e Milano (rispettivamente l' 8, 10, 11 settembre) le canzoni contenute nel suo ultimo album Goodbye Lullaby. E sul quotidiano di via Solferino, anche attraverso le parole della diretta interessata, si fanno notare due macroscopiche trasformazioni nella cantante di What the hell. La prima sul piano dell'aspetto fisico: niente più ciocche di capelli tinte con sfumature improbabili, basta con le unghie laccate di nero, fine degli scarponcini e delle giacche verde militari. Ora è il momento dei capelli biondi sciolti e della lingerie (così compare proprio nel video di What the hell). A questo proposito Lavigne, che ha rivelato di voler lavorare con Ricky Martin, ha detto:
Sono cresciuta e ho molte più responsabilità, ma non ho ancora smesso di giocare con i miei capelli e vestiti. La differenza è che ora apprezzo molto di più un bel vestito elegante e i tacchi alti, quando li indosso non mi sento ridicola e non mi sembra di vestirmi come una donna che ha dieci anni più di me. Ora ci metto di più a prepararmi la mattina e passo più tempo a fare shopping.
E poi la metamorfosi legata più strettamente alla musica. Con il suo ultimo disco, la canadese ha messo in atto una svolta romantica e introspettiva, anche perché si tratta di un lavoro autobiografico e segnato dalla separazione dal marito Deryck Whibley:
Ho scritto le canzoni senza aver paura di mostrare i miei sentimenti. E non mi sento più vulnerabile per questo. Mi capita di incontrare tante persone, conosco artisti che si sono persi inseguendo le adulazioni, i soldi e il successo. Cerco sempre di ricordarmi da dove vengo, per questo ho anche una casa a Toronto. Non ho dimenticato che da ragazzina giocavo ad hockey suul ghiaccio con mio fratello e sognavo di diventare una popstar. A casa avevamo una batteria, una chitarra acustica e una elettrica, mio padre mi comprò un microfono, suonavo e cantavo in cantina. Ma non sono mai stata disposta a tutto pur di vedere realizzato il mio desiderio.