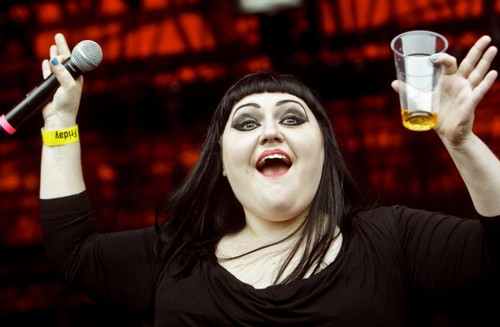 I Gossip sono attesi questa sera a Milano per l'unica data italiana del loro nuovo tour. La band presenterà le canzoni di A Joyful Noise, il loro quinto album di inediti. Proprio con questo disco Beth Ditto e soci hanno deciso di virare verso sonorità decisamente più pop. Per conquistare una fetta maggiore di pubblico? Per fidelizzare gli ammiratori mainstream che li ha conosciuti con Heavy Cross? Qualunque siano state le intenzioni Lp è stato un mezzo buco nell'acqua.
A Joyful Noise è stato accolto tiepidamente dalla critica e ancora peggio è andata con il pubblico. Per fare alcuni esemp, NME, il magazine di musica che tanto aveva supportato e premiato la Ditto, lo ha giudicato con un misero 3 su 10; Pitchford a stento ha dato un 6. Dicevamo dell'accoglienza del pubblico: ha debuttato alla 47 in Gran Bretagna, al numero 100 in America, alla 35 in Australia. Insomma, davvero poco se confrontato con i numeri di Music for man. Tra l'altro è una magra consolazione pensare che sia andato meglio di Standing in the Way of Control, il terzo album della formazione pubblicato anche in Europa che, in generale, è passato praticamente inosservato.
Ci si aspettava tutt'altro da Beth Ditto, Brace Paine e Hannah Blilie sia dal punto di vista dei contenuti sia dei risultati. Questo perché il loro carisma e la loro personalità può dare ancora molto alla musica. Vi lasciamo con una piccola anticipazione: Perfect World, What's Love Got to Do with It (cover della canzone di Tina Turner), Casualties of War e Heavy Cross, quasi certamente saranno le canzoni che i Gossip suoneranno durante la fase conclusiva del concerto.
Photo Credits | Getty Images