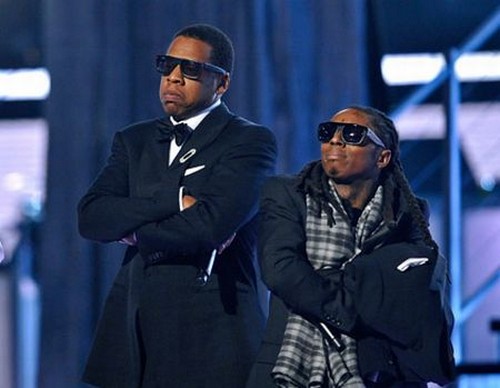 Nuovi dischi all'orizzonte per Jay-Z e Lil Wayne. Partiamo con il primo, il suo disco si intitolerà Watch The Throne e dovrebbe uscire questa estate anche se per il momento non si conosce nessuna data ufficiale. All'album ha collaborato Kanye West, la produzione è stata affidata a Young Guru e all'interno ci saranno dei featuring del calibro di Beyoncé e Mr Hudson.
Ecco la tracklist dell'unidicesimo album in studio di Jay-Z: No Church in the Wild (ft. Frank Ocean), Lift Off (ft. Beyoncé), Niggas in Paris, Otis (ft. Otis Redding), Gotta Have It, New Day, Prime Time, Who Gon Stop Me, Murder to Excellence, Welcome to the Jungle, Sweet Baby Jesus (ft. Frank Ocean), Why I Love You (ft. Mr Hudson).
Passando a Lil Wayne, finalmente si può dire che i lavori per il nuovo disco sono terminati. Dopo un paio di posticipazioni, The Carter IV uscirà il 29 agosto, sarà anticipato da un mixtape che – come ha spiegato il rapper – sarà un modo per scusarsi con i fan per la lunga attesa.