Il 25 e il 26 novembre, in oltre 250 sale cinematografiche italiane, approda il film dedicato alla vita e all'eredità artistica di Michael Jackson, "Michael Jackson: Life, Death and Legacy".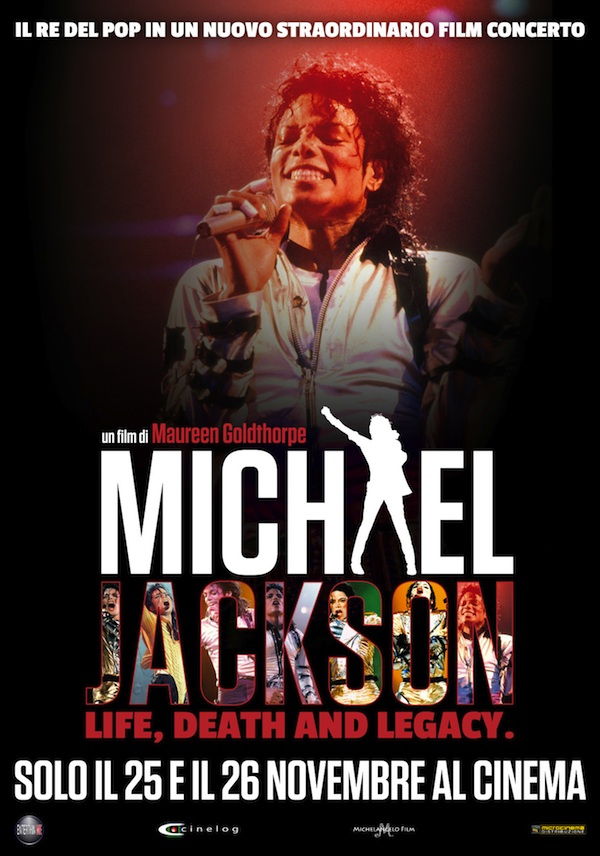 Grazie al lavoro della regista Maureen Goldthorpe, arriva uno straordinario tributo al Re del Pop, Michael Jackson, alla sua vita e all'eredità artistica che ha lasciato dopo la sua morte prematura, avvenuta nel 2009 e ricordata con un funerale seguito da centinaia di milioni di spettatori in tutto il mondo.
Nel film ci saranno le testimonianze inedite di coloro che hanno lavorato con Michael Jackson, amici, familiari e giornalisti, accompagnate da commoventi ricordi, nuovi e mai visti filmati che lo ritraggono nella sua brillante quotidianità e alle emozionanti esibizioni.
Il film permette di riascoltare tutti i suoi brani più celebri e amati: da "I Want You Back", inciso con i Jackson Five quando era ancora un bambino; la popolarità da solista ottenuta con il brano "Don't Stop 'til You Get Enough"; per arrivare al successo planetario raggiunto grazie a canzoni come "Thriller" e "Billie Jean"; fino alle conferme di "Bad" e "Black or White", solo per citare alcuni dei classici presenti in "Michael Jackson: Life, Death and Legacy".
Ecco il trailer di Michael Jackson: Life, Death and Legacy