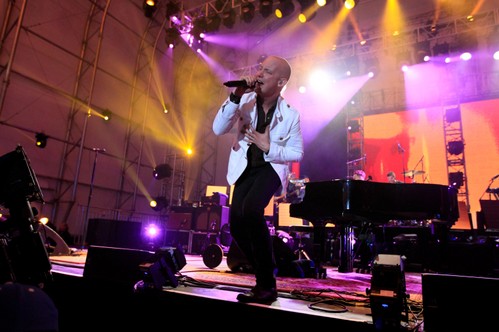 I The Fray hanno recentemente pubblicato nel Regno Unito il loro nuovo album di inediti, dal titolo Scars & Stories. La band, durante un'intervista rilasciata ad Absolute Radio, ha dichiarato di essere molto orgogliosa del loro nuovo lavoro.
Il chitarrista Joe King ha affermato che non c'è una canzone in particolare che li renda orgogliosi. Il gruppo è fiero di tutto l'album:
La sensazione è diversa per tutti noi. Voglio dire, siamo tutti attaccati alle canzoni per motivi diversi. Io sono orgoglioso di questo disco. E' un album che si può apprezzare per la sua interezza e non per un solo singolo.
I The Fray, per l'occasione, hanno anche offerto una performance live all'Hard Rock  Cafè di Londra.
La parola è successivamente passata al cantante Isaac Slade che ha parlato della sua amicizia con Bono Vox e dei suoi consigli:
Ci ha consigliato di non prenderci troppo sul serio. Bono pensa che è musica, già di per sé impressionante, non stiamo mandando avanti un governo o cose del genere. Ci dà un sacco di consigli e pensa che il nostro sia un lavoro meraviglioso, anche nei giorni peggiori.
Photo Credits | Getty Images