Come vi avevamo annunciato Tiziano Ferro torna ieri, 20 novembre 2015, con una ricchissima riedizione del suo Best Of dopo aver festeggiato il traguardo dei 6 dischi di platino con TZN – THE BEST OF TIZIANO FERRO, uscito il 25 novembre 2014.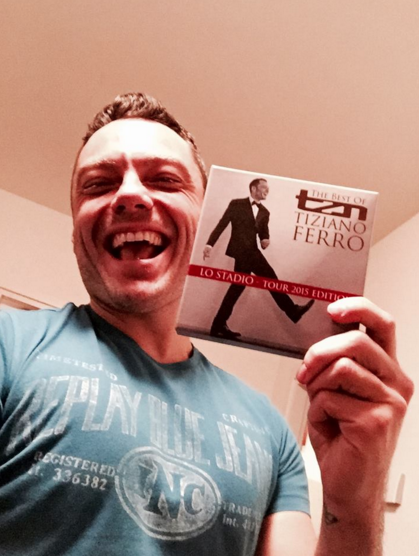 TZN – The Best of Tiziano Ferro LO STADIO TOUR 2015 EDITION è un box che oltre ai 2 cd con tutti i successi contiene tutte le canzoni live de LO STADIO TUOR 2015 e un fantastico DVD con il concerto registrato a San Siro in versione integrale (oltre 2 ore e 10 minuti di concerto con audio 5.1 e Stereo).
Fino al 22 dicembre continua il viaggio live nei palasport con date raddoppiate e triplicate in diverse città e tutte rigorosamente già sold out in prevendita.
E' lo spettacolo degli estremi: intimo ed eclatante, divertimento e commozione per i nuovi concerti che chiudono un anno meraviglioso. Il nuovo show mantiene la scaletta degli stadi con tutti i singoli della sua carriera, effetti speciali e nuovi elementi scenici: geyser di CO2, mapping 3d, raggi laser, nuove coreografie (veri balletti su Xverso, L'olimpiade. Il vento, Le cose che non dici e Raffaella è mia). Numerosi cambi di scena e di abito e sul finale appare un palco che si eleva fino a 4 metri di altezza.
Con Tiziano on stage una band d'eccezione: Andrea Rigonat (chitarra), Davide Tagliapietre (chitarra), Luca Scarpa (pianoforte/dir.musicale) e Nicola Peruch.
Il calendario ufficiale:
13 NOVEMBRE, TORINO – PALA ALPITOUR – SOLD OUT
16 NOVEMBRE, MILANO – MEDIOLANUM FORUM – SOLD OUT
17 NOVEMBRE, MILANO – MEDIOLANUM FORUM – SOLD OUT
19 NOVEMBRE, BOLOGNA – UNIPOL ARENA – SOLD OUT
21 NOVEMBRE, ROMA – PALALOTTOMATICA – SOLD OUT
22 NOVEMBRE, ROMA – PALALOTTOMATICA – SOLD OUT
24 NOVEMBRE, EBOLI (SA) – PALASELE – SOLD OUT
26 NOVEMBRE, BARI – PALAFLORIO – SOLD OUT
28 NOVEMBRE, ACIREALE (CT) – PALASPORT – SOLD OUT
29 NOVEMBRE, ACIREALE (CT) – PALASPORT – SOLD OUT
02 DICEMBRE, MONTICHIARI (BS) – PALAGEORGE – SOLD OUT
03 DICEMBRE, MONTICHIARI (BS) – PALAGEORGE – SOLD OUT
05 DICEMBRE, ZURIGO – HALLENSTADION – SOLD OUT
06 DICEMBRE, GINEVRA – ARENA – SOLD OUT
08 DICEMBRE, MONACO DI BAVIERA – ZENIT – SOLD OUT
11 DICEMBRE, CONEGLIANO (TV) – ZOPPAS ARENA – SOLD OUT
12 DICEMBRE, CONEGLIANO (TV) – ZOPPAS ARENA – SOLD OUT
15 DICEMBRE, BRUXELLES – FOREST NATIONAL – SOLD OUT
17 DICEMBRE, LUGANO – RESEGA – SOLD OUT
19 DICEMBRE, FIRENZE – MANDELA FORUM – SOLD OUT
20 DICEMBRE, FIRENZE – MANDELA FORUM – SOLD OUT