Rai1 presenta in prima serata, mercoledì 30 dicembre alle 21.20, Tiziano Ferro – Lo Stadio, uno speciale TV inedito dedicato a Tiziano Ferro.
30 Dicembre ore 21:20 RAI1 @TizianoFerro – Lo Stadio speciale TV da non perdere! #TizianoRai1 pic.twitter.com/Zn1MZ2kq0r

— Tiziano Ferro (@TizianoFerro) 16 Dicembre 2015
Queste le parole di Tiziano Ferro:
Ho vissuto un anno unico. Ve lo voglio raccontare, dal palco e dietro le quinte. Per celebrare un anno meraviglioso ed accoglierne uno nuovo.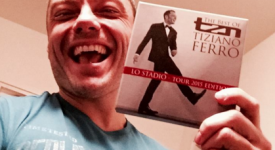 Ricordiamo inoltre che TZN – The Best Of Tiziano Ferro Lo Stadio Tour 2015 Edition contiene 2CD con tutti i successi, 2CD con le canzoni live registrate durante Lo Stadio Tour 2015 e un fantastico DVD con il concerto di San Siro (4 e 5 Luglio) in versione integrale con oltre 2 ore e 10 minuti di show. Nella confezione trovi anche un libretto di 60 pagine con le più belle foto live di Tiziano Ferro.
Il box 4CD+DVD è in tutti i negozi a prezzo speciale.