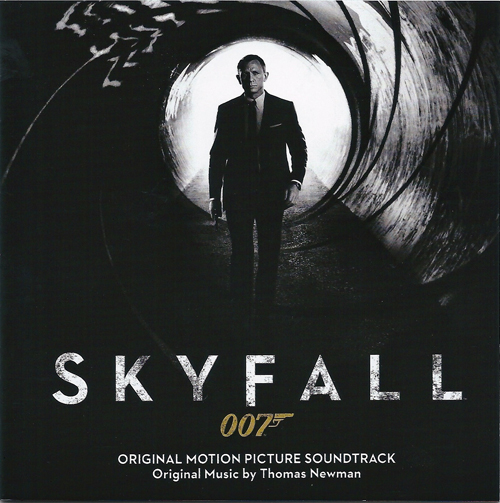 Titolo: Skyfall
Regista: Sam Mendes
Anno: 2012
A cinquant'anni dal suo primo episodio torna James Bond, l'agente segreto più famoso di tutti i tempi, nuovamente interpretato da Daniel Craig. Questa volta l'uomo con licenza di uccidere sarà alle prese con Raoul Silva (Javier Bardem), rinnegato agente al servizio di sua maestà. Una lotta che per 007 sarà un ritorno al passato, a bordo della sua fedelissima Aston Martin e privo di qualsiasi congegno ipertecnologico. A dirigere il film il pluripremiato Sam Mendes, regista di capolavori come American Beauty e Era Mio Padre.
Skyfall – La Colonna Sonora
Thomas Newman è un noto ed eclettico compositore americano: sue sono le musiche di film come Jarhead, Alla Ricerca Di Nemo e The Iron Lady. Questo è il suo primo lavoro su un film di 007, ed è ufficialmente il nono compositore di tutta la serie di film.
Skyfall: Original Motion Picture Soundtrack è composta da 30 tracce:
1. "Grand Bazaar, Istanbul"
2. "Voluntary Retirement"
3. "New Digs"
4. "Sévérine"
5. "Brave New World"
6. "Shanghai Drive"
7. "Jellyfish"
8. "Silhouette"
9. "Modigliani"
10. "Day Wasted"
11. "Quartermaster"
12. "Someone Usually Dies"
13. "Komodo Dragon"
14. "The Bloody Shot"
15. "Enjoying Death"
16. "The Chimera"
17. "Close Shave"
18. "Health & Safety"
19. "Granborough Road"
20. "Tennyson"
21. "Enquiry"
22. "Breadcrumbs"
23. "Skyfall"
24. "Kill Them First"
25. "Welcome to Scotland"
26. "She's Mine"
27. "The Moors"
28. "Deep Water"
29. "Mother"
30. "Adrenaline"
A trainare la pellicola è anche l'omonimo singolo di Adele, scritto dalla cantante stessa e musicato sempre da Newman. Skyfall, distribuito digitalmente, è balzata da subito in vetta alle classifiche di tutto il mondo.