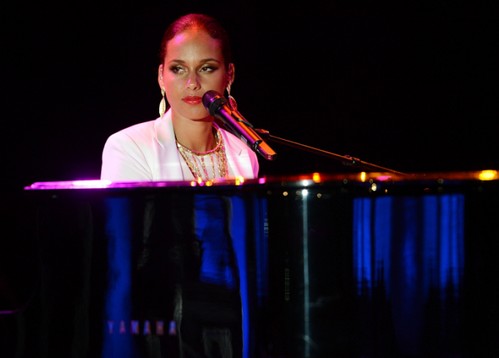 Alicia Keys ha affermato di essere quasi pronta per pubblicare il suo quinto album di inediti. La cantante ha trascorso gli ultimi otto mesi a lavorare sul nuovo disco che sarà pubblicato a tre anni di distanza dall'ultimo album, The element of freedom.
La cantante ha rilasciato queste dichiarazioni riportate da Digital Spy:
L'album è quasi pronta e sono decisamente eccitata. E' come se fossi una persona diversa. Sono una persona nuova. Tutto è nuovo, da quando sono sposata e ho un bambino. Sono diventata più intelligente ed esamino meglio il panorama per cercare e trovare quello che è la cosa migliore per me e la cosa migliore per mio figlio e la mia famiglia.
Alicia Keys ha aggiunto:
Ho attraversato la crescita e ho realizzato che nella vita tante cose diverse vengono e successivamente cambiano. Ho imparato che devo fidarmi di me e dei miei istinti. Devo essere coraggiosa come non lo sono mai stata prima. Ho fame, sono un animale ora. Sono pronta per liberarmi in un modo completamente diverso. Quando si tratta di condividere con voi questa musica, io sono come un animale in gabbia che muore dalla voglia di fuggire.
Il nuovo album di Alicia Keys potrebbe intitolarsi New Day.
Photo Credits | Getty Images