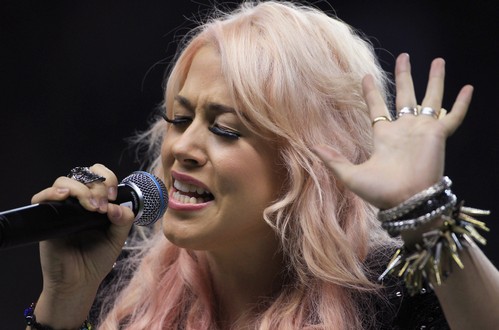 Amelia Lily, cantante 17enne che ha partecipato all'ottava edizione della versione britannica di X Factor, ha ammesso che le piacerebbe molto collaborare con Katy Perry e con i Coldplay. La cantante ha anche ammesso che le piacerebbe tenere un concerto al glorioso Madison Square Garden.
Queste sono le sue dichiarazioni rilasciate al The Sun:
Mi piacerebbe cantare al Madison Square Garden a New York. E' sempre stato il sogno della mia vita. Non so quando succederà, forse mai, ma un giorno vorrei arrivarci. Vorrei anche avere un singolo e un album al primo posto. Mi piacerebbe anche fare un film sulla mia carriera proprio come ha appena fatto Katy Perry. Un'altra cosa sarebbe una grande collaborazione, con Katy Perry, Pink, Kings of Leons o con i Coldplay. Ognuno di loro sarebbe un sogno che si avvera. 
Amelia pubblicherà il suo singolo di debutto, You bring me joy, il prossimo 26 agosto.
Photo Credits | Getty Images