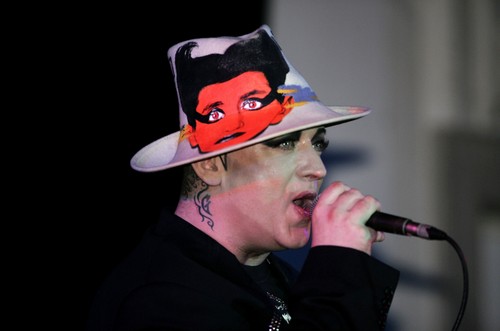 Anche lui? Ebbene sì, pure Boy George ha ricantato "I wanna be your dog", un ultra-classico pezzo degli Stooges, interpretato in origine da Iggy Pop e incluso nell'album di debutto della band proto-punk di Detroit.
Il brano che conquistato un po' tutti, difatti ne esistono una marea di versioni, da quella dei Sex Pistols a quella dei nostri Litfiba, passando per Slayer, Red Hot Chili Peppers, Sonic Youth, Uncle Tupelo, Green Day, Stereophonics e una folta schiera di altri nomi del rock che l'hanno voluta reinterpretare nel corso degli anni.
Quella di Boy George è l'ultima in ordine temporale e, a dire il vero, non è neppure davvero sua.
L'ex leader dei Culture Club, difatti, l'ha coverizzata per un progetto nato in seno ad un famoso gruppo degli anni '80: gli Human League. Dalle ceneri del combo era nato un altro progetto, ovvero gli Heaven 17, attivo fino al 2007.
Boy George – I wanna be your dog – Video
Adesso gli stessi personaggi, ovvero Martyn Ware e Ian Craig Marsh, che si celano dietro la sigla British Electric Foundation ed hanno ripreso da dove avevano lasciato, realizzando quindi un nuovo volume della loro collana cover.
Si intitola "Dark: music of quality and distinction – Vol. 3" la compilation nella quale è inclusa la versione di  "I wanna be your dog" cantata da Boy George.
Intanto lui, tornato al peso forma di 30 anni fa, a quello del culmine della sua gloriosa carriera, torna in tour.
Sarà, difatti, anche in Italia per un djset. Si esibirà dietro ai piatti il 24 aprile al Phenomenon di Fontaneto D'Agogna, in provincia di Novara. Il leader dei Culture Club proporrà una ricca selezione di brani da dancefloor, come fa in genere nella sua città d'adozione ormai da anni: New York.