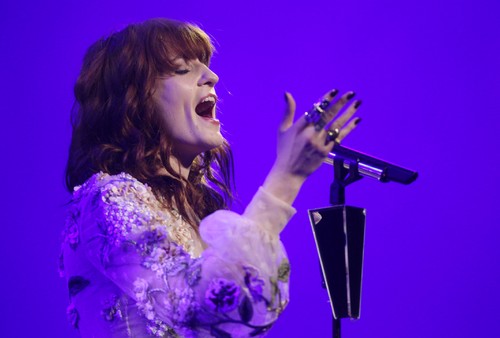 Florence + The Machine hanno rivelato che stanno lavorando per un album dance segreto che verrà pubblicato con un altro nome. Per la prima volta, il gruppo ha parlato di questo progetto parallelo per il quale hanno già registrato alcune canzoni house.
Queste sono le dichiarazioni di Florence Welch rilasciate a Digital Spy:
Abbiamo un side project dance chiamato Side Project. Abbiamo realizzato questa strana canzone house che sembrava una canzone di chiesa. E' da confermare. Finora questo brano non è mai stato svelato a nessuno.
Florence, che ultimamente ha lavorato con Calvin Harris, ha aggiunto:
Sono una sua grande fan. Quello che mi piace delle canzoni di Calvin è l'euforia mista alla malinconia. Quel mix accattivante e triste, quella sensazione di gioia completa. Questo mix rende grande una canzone pop. 
Florence + The Machine hanno recentemente presentato il loro nuovo video, Spectrum, diretto da David LaChapelle.
Photo Credits | Getty Images