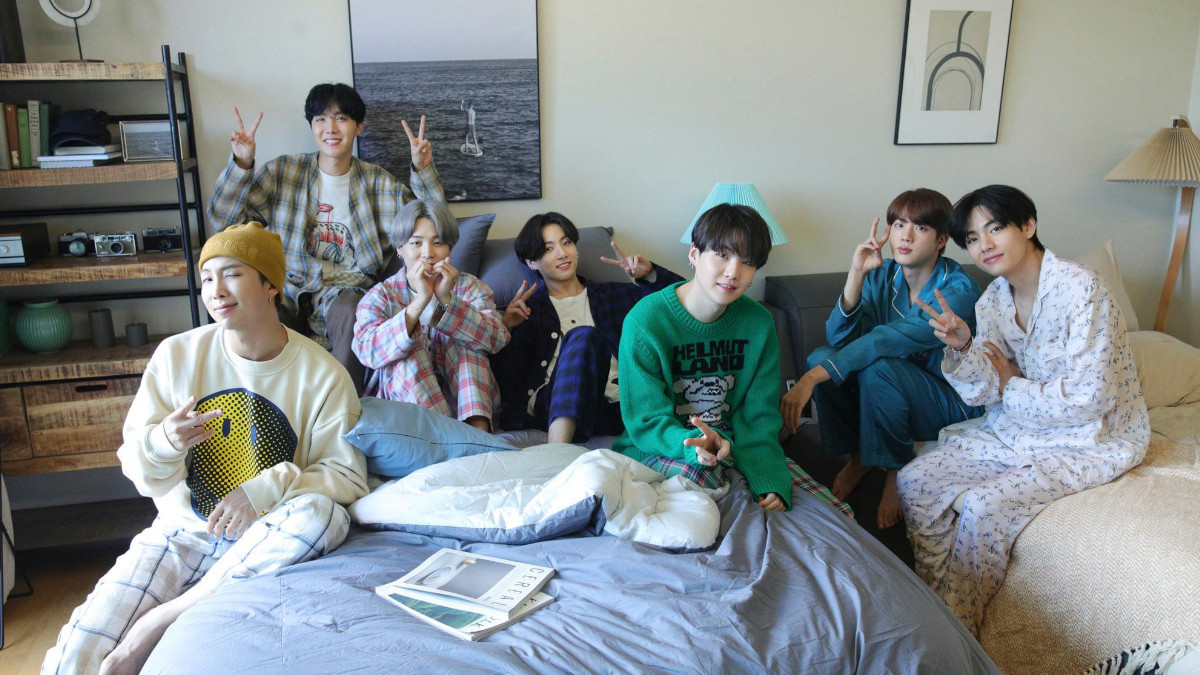 Dopo la terza vittoria consecutiva come Artist Of The Year ai The Fact Music Awards 2020 Dynamite dei BTS ritorna con un video a tema natalizio. Un giubilo giustificato, quello dei Bangtan Boys di Seul che quest'anno portano a casa una serie innumerevole di successi e novità. A partire dal rinvio del servizio militare gli idoli del k-pop si confermano come il fenomeno dell'anno, un'avanzata della musica mainstream sudcoreana verso l'Occidente piena di record. Non a caso le Blackpink sono state la prima realtà orientale a esibirsi al Coachella, una novità che vince contro ogni confine geografico e politico.
Dynamite dei BTS è oggi patrimonio culturale mondiale, grazie anche all'inserimento del brano in vari spot e alla virata in termini di produzione: a questo giro i Bangtan Boys, infatti, hanno scelto di lavorare attivamente sui progetti, mettendo mano sia agli arrangiamenti che ai testi, scegliendo anche l'outfit e lo stile del video.
Nella nuova versione di Dynamite dei BTS le tipiche sonorità della disco music si arricchiscono con i tipici suoni delle festività, un remix fatto di campane e accordi più decisi, e il brano viene riproposto con un sound più fresco e festivo. Ecco il testo di Dynamite dei BTS e la nuova versione del video.
[Intro: Jungkook]
'Cause I, I, I'm in the stars tonight
So watch me bring the fire and set the night alight
[Verse 1: Jungkook]
Shoes on, get up in the morn'
Cup of milk, let's rock and roll
King Kong, kick the drum
Rolling on like a Rolling Stone
Sing song when I'm walkin' home
Jump up to the top, LeBron
Ding-dong, call me on my phone
Ice tea and a game of ping pong
[Pre-Chorus: RM, j-hope]
This is gettin' heavy, can you hear the bass boom? I'm ready (Woo-hoo)
Life is sweet as honey, yeah, this beat cha-ching like money, huh
Disco overload, I'm into that, I'm good to go
I'm diamond, you know I glow up
Hey, so let's go
[Chorus: Jungkook, Jimin]
'Cause I, I, I'm in the stars tonight
So watch me bring the fire and set the night alight (Hey)
Shinin' through the city with a little funk and soul
So I'ma light it up like dynamite, woah-oh-oh
[Verse 2: V, RM]
Bring a friend, join the crowd, whoever wanna come along
Word up, talk the talk, just move like we off the wall
Day or night, the sky's alight, so we dance to the break of dawn (Hey)
Ladies and gentlemen, I got the medicine so you should keep ya eyes on the ball
[Pre-Chorus: Suga, Jimin, RM]
Huh, this is gettin' heavy, can you hear the bass boom? I'm ready (Woo-hoo)
Life is sweet as honey, yeah, this beat cha-ching like money, huh
Disco overload, I'm into that, I'm good to go
I'm diamond, you know I glow up
Let's go
[Chorus: Jungkook, V]
'Cause I, I, I'm in the stars tonight
So watch me bring the fire and set the night alight (Hey)
Shinin' through the city with a little funk and soul
So I'ma light it up like dynamite, woah-oh-oh
[Post-Chorus: Jungkook, Jimin, Jin]
Dyn-na-na-na, na-na-na-na-na, na-na-na, life is dynamite
Dyn-na-na-na, na-na-na-na-na, na-na-na, life is dynamite
Shinin' through the city with a little funk and soul
So I'ma light it up like dynamite, woah-oh-oh
[Bridge: Jungkook, j-hope, Jimin, V]
Dyn-na-na-na, na-na, na-na, ayy
Dyn-na-na-na, na-na, na-na, ayy
Dyn-na-na-na, na-na, na-na, ayy
Light it up like dynamite
Dyn-na-na-na, na-na, na-na, ayy
Dyn-na-na-na, na-na, na-na, ayy
Dyn-na-na-na, na-na, na-na, ayy
Light it up like dynamite
[Chorus: Jimin, Jungkook, Jin]
'Cause I, I, I'm in the stars tonight
So watch me bring the fire and set the night alight
Shinin' through the city with a little funk and soul
So I'ma light it up like dynamite
(This is ah) 'Cause I, I, I'm in the stars tonight
So watch me bring the fire and set the night alight (Alight, oh)
Shinin' through the city with a little funk and soul
So I'ma light (Light) it (It) up (Up) like (Like) dynamite (Dynamite), woah-oh-oh
[Post-Chorus: Jungkook, Jimin, V]
Dyn-na-na-na, na-na-na-na-na, na-na-na, life is dynamite (Life is dynamite)
Dyn-na-na-na, na-na-na-na-na, na-na-na, life is dynamite (Oh)
Shinin' through the city with a little funk and soul
So I'ma light it up like dynamite, woah-oh-oh