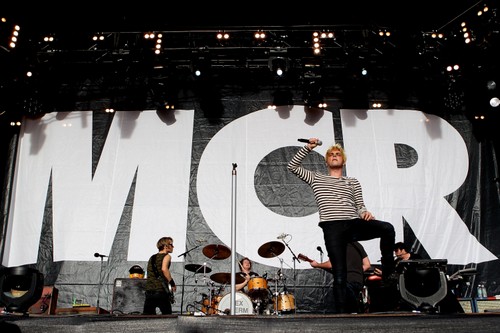 La band, My Chemical Romance, ha deciso di costruire a Los Angeles uno studio di registrazione tutto per loro. Una volta ultimati i lavori, il gruppo si dedicherà alle sessioni di registrazione del nuovo album.
C'è riserbo assoluto attorno al nuovo album dei My Chemical Romance: l'ultimo album inedito della band risale al 2010, intitolato Danger days: The true lives of the fabulous killjoys.
Il chitarrista della band, Ray Toro, ha rilasciato le seguenti dichiarazioni a Noise11:
A Los Angeles, stiamo cercando di costruire uno studio per cercare di essere creativi al massimo e andare in studio ogni volta che ne abbiamo voglia. Spesso per preparare un album, si hanno tre o quattro mesi di tempo, e a volte questo è difficile. Si può richiedere più tempo ma avverti sempre un po' di pressione. Con questo studio, invece, potremmo lavorare 24 ore su 24. Sarà magnifico!
Photo Credits | Getty Images