Manca poco più di un mese al Rock in Idro 2014, uno dei festival più cool della scena rock italiana.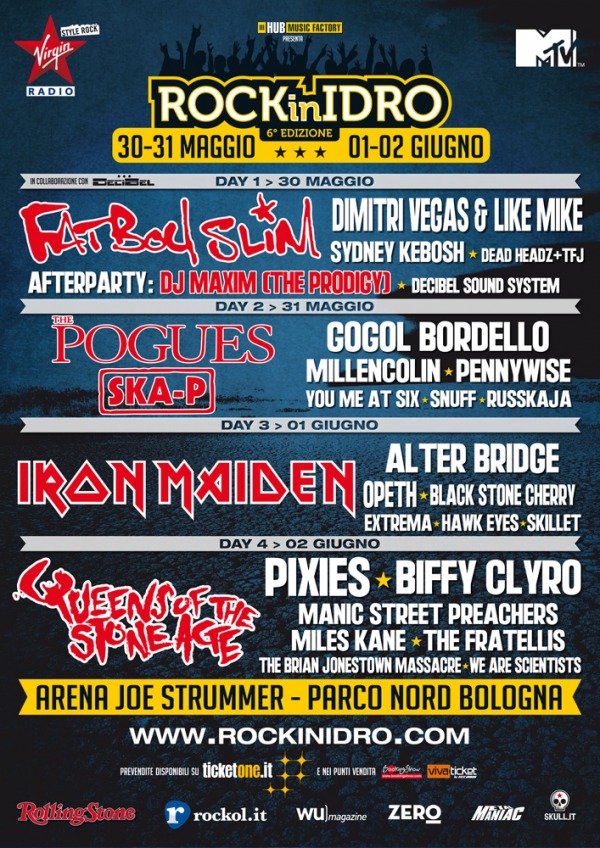 L'evento si terrà all'Arena Joe Strummer di Bologna dal 30 al 2 giugno, con una lineup davvero esplosiva. Sul palco si alterneranno alcune fra le band che hanno fatto la storia del rock, come gli Iron Maden, i Queens of the Stone Age, fino a Fatboy Slim e i Gogol Bordello.
Insomma tanti protagonisti della scena rock passata e anche presente, che riempiranno il palco dell'Arena Joe Strummer al Parco Nord di Bologna. In realtà ci saranno varie sfumature musicali, con la giornata del 30 maggio dedicata all'elettronica, del 31 dedicata al punk rock, del 1° al metal e del 2 all'indie alternativo.
Ecco tutte le informazioni sui biglietti:
DAY 1 – Venerdì 30 maggio – Fatboy Slim, Maxim (The Prodigy) DJ Set
Ingresso 30 € + ddp
DAY 2 – Sabato 31 maggio – Ska-p, The Pogues, Gogol Bordello, Mileencolin, Pennywise, You Me At Six, Snuff, Russkaja
Ingresso 40 € + ddp
DAY 3 – Domenica 1 giugno – Iron Maiden, Alter Bridge, Opeth, Black Stone Cherry, Skillet
Ingresso 65 € + ddp
DAY 4 – Lunedì 2 giugno – Queens Of The Stone Age, The Fratellis, Pixies, Biffy Clyro, Miles Kane, Manic Street Preachers, We Are Scientists
Ingresso 50 € + ddp