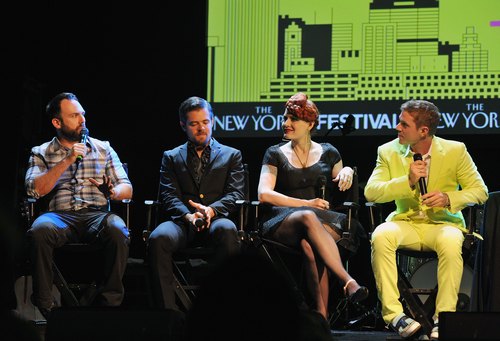 Guai additare Jake Shears e soci come superficiali. In una intervista rilasciata al Daily Mail gli Scissor Sister fanno sapere di essere molto offesi da coloro che considerano la loro musica mediocre e inconsistente:
La nostra musica è universale. Creiamo musica che trascende dal fatto di essere una band gay. Ci siamo risentiti quando di recente un presentatore televisivo annunciando il nostro ultimo singolo lo ha definito "semplice".
Il riferimento è al primo singolo estratto da Magic Hour, Only the horses, prodotto dal guru della dance Calvin Harris. Il leader della band ha spiegato il motivo per cui Only the horses è stato scelto come primo singolo:
Abbiamo scelto 'Only the horses'come primo singolo perché non ci poteva essere canzone migliore per presentare il nuovo lavoro. Volevamo qualcosa che fosse totalmente diverso, che suonasse davvero differente rispetto a 'Night works', un vero e proprio concept album per noi. E' un singolo che si sposa bene anche con l'estate ma sinceramente non stiamo molto a guardare le dinamiche commerciali, seguiamo i nostri gusti e le nostre sensazioni. 'Only the horses' è una canzone spiccatamente pop, nata di getto, come la maggior parte dei brani di 'Magic hour'.
Magic Hour sarà pubblicato il 29 maggio.
Photo Credits | Getty Images